Address: 101 Stansfield Road
Benfleet SS7 4NA
United Kingdom
Phone:0333 1214 123 Fax:N/A
123connect are an established UK web hosting company that has been helping businesses and people just like you to get their websites up and running for over 15 years. We are not resellers we are web hosts, we are web designers, we are domain registrars and we are here to help you with anything and everything you need to get online.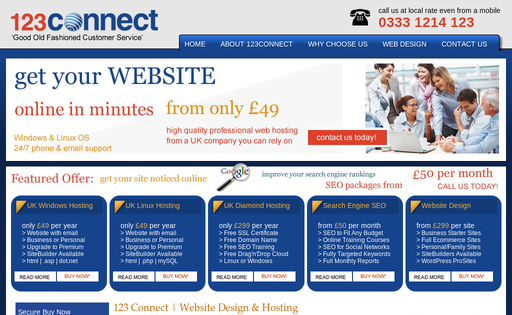 Established in 2000, 123Connect is UK's leading web hosting company delivering expert and cost effective website solutions. Our service offerings include domain name registration, web design, web development, e-Marketing, application development, e-Commerce, search engine optimisation, social media marketing and a range of other interactive products.

Our aim has always remained the same – to provide outstanding service and support to our customers; and we achieve this through innovative technology and unmatched customer service.

We are here to help you, its as simple as that..
Shared Hosting starting at £4.08/mo
Domains: 1 Disk Space: Unlimited Bandwidth: Unlimited Control Panel: Yes Money-back Guarantee: 30 day