Address: 4117 Ohio Street
San Diego CA 92103
United States
Phone:N/A
Fax:N/A


We offer straight forward and simple packages, no need to worry about which plan includes what. We completely reimagined how website hosting is priced. All our products include the same advanced technologies and great features, all you need to worry about is how much space you need.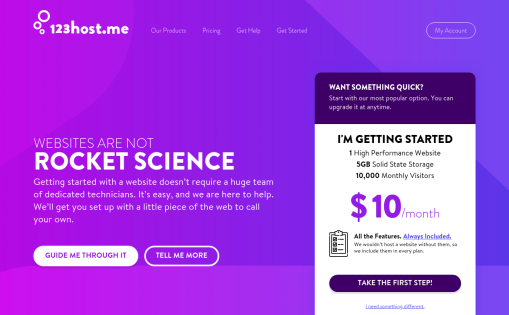 Getting started with a website doesn't require a huge team of dedicated technicians. It's easy, and we are here to help. We'll get you set up with a little piece of the web to call your own. Our vision has always been to help people get started with their own piece of the web. A place you can call your own and share your own vision. A service that doesn't try to "pull a fast one" or trick you with a "special introductory offer". At 123host.me we have achieved that vision. We welcome you to the future of hosting.
Shared Hosting starting at $10.00/mo
Domains: 1 Disk Space: 5GB Bandwidth: 10000 v/mo Control Panel: Yes Money-back Guarantee: 30 day
I'm Getting Started 1 High Performance Website 5GB Solid State Storage 10,000 Monthly Visitors $ 10/month Check list with everything checked off All the Features. Always Included. We wouldn't host a website without them, so we include them in every plan.