Address: Gretelriede 94
Hannover 30419
Germany
Phone:+49 (0)511 - 16 58 97 49 - 0
Fax:+49 (0)511 - 16 58 97 49 - 9

1Deluxe is a ambitious Webhoster which was founded in summer 2009 and first only targeted the German market. But still our team has a lot of experience and all have worked together for another host providers, before we founded our own one. The decision to build a English version available all over the world was already made in spring 2010, however the preparations took more time as expected, which is the reason for us launching the international version in 2011.
Our slogan "Hosting on a Higher Level" describes what we are planning to offer our customers. For us a hosting provider should not only supplies the needed.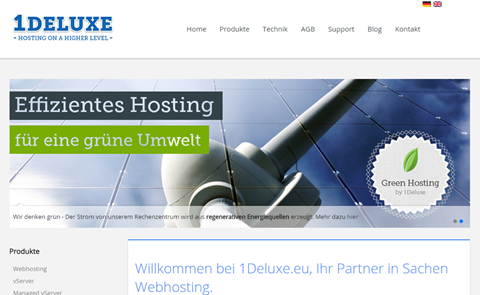 1Deluxe is a Germany based Webhoster founded in summer 2009 and ind the beginning only targeting the German/ European market. Since then we have come a long way serving customers all around the world from individuals to small and medium size businesses.

As we are taking our slogan "Hosting on a Higher Level!" serious our goal is to always provide top quality hosting combined with fair pricing and good support.
Shared Hosting starting at €1.39/mo
Domains: 1 Disk Space: 100 GB Bandwidth: Unlimited Control Panel: Yes Money-back Guarantee: 30 day
from 1,39 EUR up to 100 GB HDD up to 1 Domain inclusive up to 50 MySQL databases Fair-Use Traffic-Flatrate no setup fees!
Reseller Hosting starting at €15.38/mo
from 15,38 EUR 3 plans available up to 250 Customer Accounts up to 3 Domains inclusive up to 200 GB HDD no setup fees!
VPS Hosting starting at €5.94/mo
from 5,94 EUR OpenVZ 7 or XEN PV VPS up to 8 GB guaranteed RAM wide range of Linux OS only 1 Month contract period no setup fees!