Address:
Vilnius
Phone:N/A Fax:N/A

All 1Gbits Services

Our services are based on top-level Data Centers, with high-speed connections around the world and the most recent hardware from top enterprise providers.

Dedicated Servers
Our dedicated server hosting is in more than 20 world-class data centers and is located in more than 15 countries. 1Gbits highly reliable network covers a vast area from the US to Europe to Asia and connects them with the fastest available connections and large traffic capacity.

VMware Ready
Today, virtualization is considered one of the most important trends in the world of IT. Choosing the right hardware and software solutions requires specialized expertise. 1Gbits has made it possible for you to use our pre-configured dedicated servers for your virtualization needs.

Colocation
1Gbits is ready to host your servers on its infrastructure. We offer you the chance to use our infrastructure to host your servers on our premium data centers. By supplying power and professional networking and meeting your security needs, 1Gbits allows you to focus your full attention on your business.

VPS Hosting
By using 1Gbits VPS solutions, you will have dedicated resources to manage your daily process. Our VPS servers are deployed on the Most powerful and recent servers that virtualized with VMware ESXi hypervisor to provide you dedicated resources on both Windows and Linux based OS types.

Remote Desktop
Remote Desktop is one of the most widely used features of Microsoft Windows operating systems. It enables you to do your daily tasks in the Windows environment over the internet using 1Gbits server resources. Administrator access level allows you to install and use your preferred software programs 24/7 easily.

Game Server
Game servers are professional solutions for users who intend to globally share their favorite games with other players on a multiplayer platform. By providing network infrastructure and powerful hardware, 1Gbits dedicated servers offer you an unforgettable online gaming experience.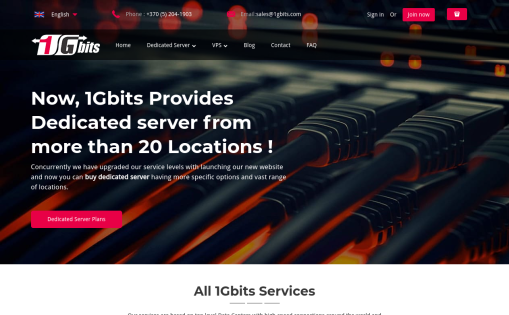 VPS Hosting starting at $15.00/mo
Virtual Private Server (VPS) is a virtual machine which is offered as a service with complete access to install software, host files running applications and much more. The main benefits of having a 1gbits Linux SSD VPS is that you will have: Unlimited fast internet (1 Gbps) High quality resources for a fraction of the price 24/7 access to your VPS and countless more to experience! 1gbits hosts our Linux VPS servers in our world-class data centers which are powered by enterprise grade hardware. All our VPS are based on SSDs and configured with RAID 10 technology. Once an order is completed the Linux VPS will be activated instantly (less than 20 seconds). We provide multiple locations strategically placed all over the globe for you to deploy your Linux SSD VPS. We provide a full access VPS control Management control panel for all Linux VPS users which lets you to: Change the OS Reboot the VPS Change passwords and much more! We provide almost all Linux distributions from Ubuntu, CentOS, Debian and Unix based OS like OpenBSD, FreeBSD and many more! In order to Buy Linux VPS from 1gbits, we accept multiple payment gateways: Credit cards, paypal, perfectmoney, Skrill, WebMoney, Cryptocurrency and more! Linux VPS 1 15 $ Monthly plan CPU : 1 Core RAM : 512 MB ECC DDR3 HDD : 10 GB BW : Unlimited IP V4 : 1 Free IP V6 : 1 Free OS : Centos, Debain, Ubuntu, FreeBSD Access : Full SSH Access
Dedicated Servers starting at $77.00/mo
CDS-i3-3220 Intel Core i3-3220 8 GB 500 GB SATA or 80GB SSD 33TB 1 Usable ca Dedicated Server 77$ monthly