Address: 3402 E University Dr
Phoenix AZ 85034
United States
Phone:N/A Fax:N/A

We are committed to your success

We are experts at helping you achieve your business goals. Our staff are systems administrators, and we take pride in providing you with unmatched quality of service and support.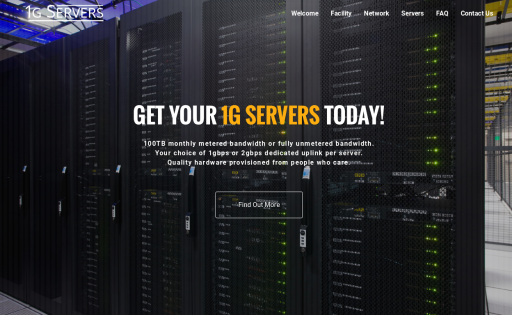 Specializing in high bandwidth dedicated server rentals, including 100TB server rentals as well as full gigabit unmetered servers. All servers come with a 1gbps dedicated uplink. Please feel free to contact us at sales@1gservers.com if you have any questions.
Dedicated Servers starting at $318.00/mo
We have made our most popular hardware configurations available for you with automated deployment. CentOS, Ubuntu or Debian Auto Install Reboot & Reinstall Anytime Live Bandwidth Graphs 1 2x E5-2650v2 32 Threads @ 2.6GHz 256 GB 2x2TB SSD Raid 1 200TB on 10gbps fiber $318.00/m
Colocation starting at $99.00/mo
Single Server Supports a 1U to 4U server, and an optional additional 1U for a firewall or switch. Includes: 1-4 amp power @ 120-volt 1gbps dedicated uplink Separate IPMI uplink 20TB monthly transfer /29 IPv4 Block /64 IPv6 Block Free rack & stack