Address: Begam Bazaar Rode, Flat Number 22
Hyderabad 500012
India
Phone:04049326135 Fax:N/A

We are Intended to Provide Cheap Shared Hosting, Cheap Reseller Hosting and affordable Servers for our Customers with highest Quality. Our Main Moto is to Support our Customer in Easy and Effective Manner for their Website Hosting Need.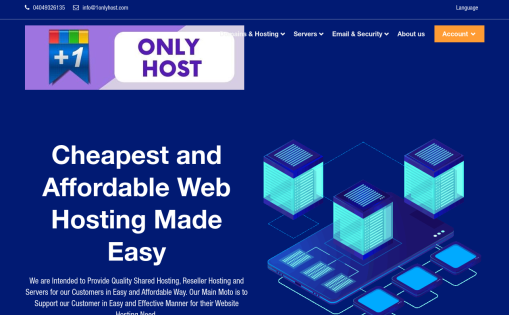 1Only Host is equipped to provide shared web hosting, reseller web hosting, vps servers and dedicated servers at cheapest rate as possible. we are located at hyderabad india, by keeping initiative in mind to serve the people all around the world. we want our customers to get experianced with highest quality as much as we can. our all of the servers are equiped with highly quality ssd based disks, which will never leave our customers down. and, our network speed of 1GBPS is always ready to give the great experiance to our customers. we not only provide web hosting or server related service but, we wanted other businesses to outsource their services of web development, bulk sms and much more at cheapest rates.
Shared Hosting starting at Rup49.00/mo
Domains: 1 Disk Space: 1 GB Bandwidth: Unlimited Control Panel: Yes Money-back Guarantee: 30 day
entrepreneur 1 Domain monthly yearly 49/month 1GB Pure SSD Disk Space Unmetered Data Transfer(1GBPS Speed) 2 Email Accounts Free SSL 2 Subdomains 5 My-SQL DataBases Free Sitepad Website Builder Free Softaculous 300 Apps Installer Secured by Imunify 360 Security System
Reseller Hosting starting at Rup500.00/mo
Reseller Hosting Free WHMCS Included Monthly Yearly 500/month 100GB Disk Space(100%SSD) Unlimited Bandwidth Fully White Labeled and Own Branding Free SSL Free Softaculous Apps Installer Free Sitepad Website Builder 100 Emails 100 MYSQL DB 5 CPANEL Accounts
VPS Hosting starting at Rup6500.00/mo
VPS1 Free DDOS Protection SSD HDD 1799/Month 100%Quality 8GB Ram 200 GB SSD Unlimited Bandwidth(250MB/S) Free DDOS Protection Root Access
Dedicated Servers starting at Rup1799.00/mo
DX1 Free DDOS Protection Included 6500/Month + 6500 One Time Setup Fee SSD HDD AMD Ryzen 5 3600 Hexa-Core CPU-B: 19914 64 GB DDR4 RAM 2x 512GB NVMe SSD Unlimited Bandwidth(1GBPS) Free DDOS Protection 4xIPV4 Included