Address: 265 klassen Rd.
Kelowna
Canada
Phone:N/A Fax:N/A
At Global Soft Technologies, we believe the spirit under which your company was formed is a vital part of its future growth. We won't tell you to change your corporate culture or anything else that makes your business an amazingly unique enterprise.
At Global Soft Technologies, we don't get our testimonials by asking our clients for them – we wait for them to develop organically in emails, commentary or blog posts.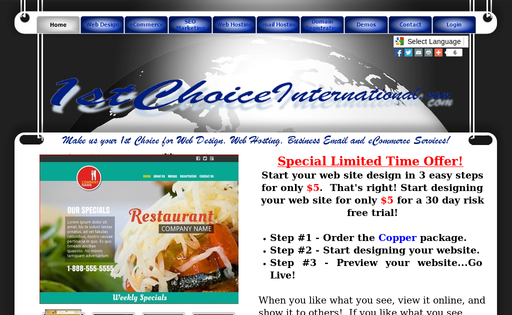 Our International, USA & Canadian web hosting clients rely on our affordable business class hosting, email and simple self-serve design and e-commerce solutions. Since 1996, we have been trusted by web designers to provide the most diverse, secure, full featured and affordable business web hosting tools on the internet.
We host web sites using the Hybrid Windows/Linux server platform and specialize in supporting a wide variety of popular web technologies, such as FrontPage, Active Server Pages, .NET, Microsoft Access, ColdFusion, mySQL, and msSQL as standard features in our packages to provide you with the tools to do the job.
Shared Hosting starting at $5.00/mo
Domains: 1 Disk Space: 5GB Bandwidth: Unlimited Control Panel: Yes Money-back Guarantee: 30 day
Personal Web Package Disk Space 5gig Data Transfer unlimited Email accounts 5 Free Hosting Setup Wordpress $5.00/mo