Address: 3422 SW 15th Street
Suite #3948
Deerfield Beach FL 33442
United States
Phone:02084090193 Fax:N/A

With 20 years of Domain Names and Web Hosting expertise, and operating from data centers in North America, London UK and Europe, you can trust 1uhost.com.
1uhost.com offers you a variety of cpanel hosting plans and bespoke options are available on request. All plans offer disk space to store your website and a generous monthly data transfer allowance. Email and Webmail are also provided. Also included in every hosting plan is at least one Addon domain giving you multi website hosting ability so you can host more than one website for no extra cost. Technical support is also available 24/7 to help resolve any problems you may encounter. 1uhost.com are IPv6 DNS Providers.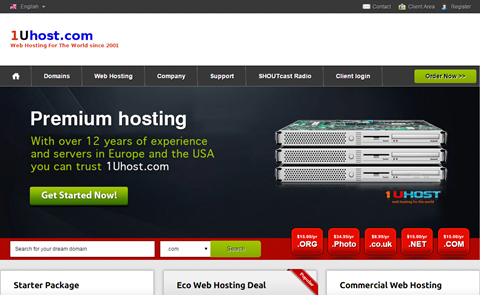 Hosting Web Sites from around the world since 2001
1UHOST is your solution; and with hosting plans starting at just $3.95 per month, you can afford to host your web site with a company proven to be reliable, with 24/7 support.
1uhost.com delivers reliable and affordable web hosting, dedicated servers and SHOUTcast radio solutions with superb support. Real flexibility, and high speed connections for web site hosting at affordable prices!
Shared Hosting starting at $4.95/mo
Domains: 1 Disk Space: 5 GB Bandwidth: Unlimited Control Panel: Yes Money-back Guarantee: 30 day
5,000 MB file Space for web pages, databases and mail A FREE SSL Certificate is included Unlimited bandwidth Fast HTTP/2 Hosting. (Apache can send multiple responses to a single client request) A FREE Domain Name* (.com , .net, .org ) with annual hosting Five sub domains Five Parked Domains 20 Email Accounts IPv6 Address read full details Only $4.95 per month OR $55.95 per Year ( saving 3.45 )