Address: Eglaines 25
Riga LV-1057
Latvia
Phone:+371 27266000 Fax:N/A

We will help you to find best solutions for business challenges that you face every day. We provide comprehensive IT solutions that combine best of breed products, services and 3rd party applications. From Devops and business analytics up to IOT -- we will help you to quickly design, develop and deploy highly available, scalable and financially beneficial IT solution built to match your needs.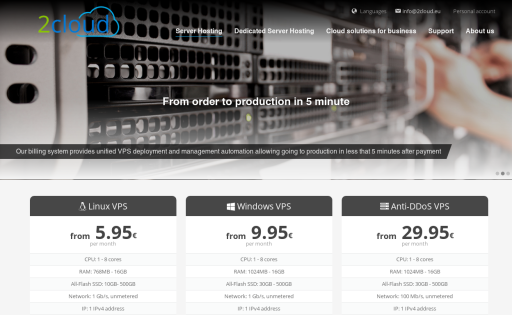 System Integrator, Cloud Services and Infrastructure-as a Service provider in Latvia.

Company specialty is High-Performance Virtual Private Server (VPS) hosting, Dedicated Servers hosting, IT-infrastructure (IaaS) solutions, as well DDoS-attacks protection.

Cloud infrastructure built on a Highly Available cluster based on Linux KVM and All-Flash storage, ensuring availability at the level of 99.95% SLA and all services provided in TIER-III Data Center.
VPS Hosting starting at €7.95/mo
VPS-1 CPU1 Core RAM1 GB SSD10 GB IPv4 IPv6
Dedicated Servers starting at €75.00/mo
Dedicated server - Supermicro MBI-6219G-T - Intel Xeon E3-1245v6 / 16GB / 2x240GB SSD / IPMI / Linux CPUIntel Xeon E3-1245 v6 RAM16 GB SSDSSD 240 GB (2x) common.hardware.network100 Mbps unmetered NIC1Gbps 75.00 € / month