Address: 372, Shri Gopal Nagar,
Gopalpura Bypass
Jaipur 302019
India
Phone:+911413000003 Fax:N/A

Founded by the world's young group of tech entrepreneurs 15 years back, 2gbHosting provides the best hosting services & solutions to various internet users of the world.

We are a certified professional IT organization with self-owned data centers to provide hosting services for any platforms like Windows, Linus, Mac, Android, etc. in countries such as the USA, Australia, France, UAE, Japan, Africa, etc.

With our varied interests in IT & IT enabled services i.e., Application development (Client-Server, Desktop, and Web applications), Consultancy, and Networking, we have launched resellers/partners programs for SMEs, startups, corporate companies, individual clients & customers.

Our aim is to maximizing return on investment by offering a wide range of networking end-to-end web solutions as we have the best Internet Infrastructure and Internet Data Center based upon international standards.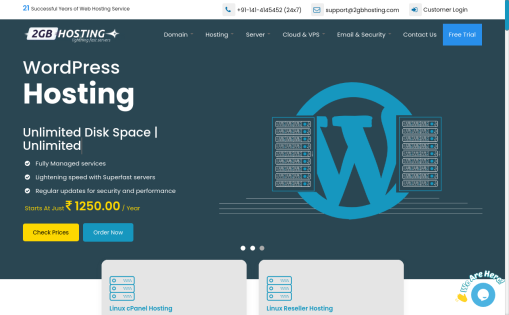 2GB Hosting is an effort by hosting experts to provide economic, fast and easy to manage hosting solution to novice and expert web and internet users of the world.

We are a Certified professional Information Technology organisation with unique ideas and powerful solutions.

With a perfect combination of strategy and cutting edge technologies, we provide quality web hosting products and services to clients about in 120 countries that includes USA, Australia, France, UAE Japan, Africa etc.
Shared Hosting starting at Rs800.00/mo
Domains: 1 Disk Space: 202 GB Bandwidth: Unlimited Control Panel: Yes Money-back Guarantee: 30 day
Linux cPanel Hosting 202GB Hosting 800.00/Per Year DISK SPACE 202 GB BANDWIDTH Unlimited Traffic EMAIL Unlimited | 500MB Per ID Control Panel cPanel
Reseller Hosting starting at Rs2000.00/mo
Linux Reseller Hosting R1-10GB 2000.00/Per Year DISK SPACE 10 GB SSD BANDWIDTH Unlimited EMAIL Unlimited DOMAINS Unlimited Control Panel cPanel/WHM ( No. of cPanel 5 )
VPS Hosting starting at Rs649.00/mo
649.00/ Month DISK 25 GB SSD RAM 2 GB Dedicated IP 1 Bandwidth 200 GB
Cloud Hosting starting at Rs649.00/mo
649.00/ Month DISK 25 GB SSD RAM 2 GB Dedicated IP 1 Bandwidth 200 GB