Address: 102, Shivkripa, Kirol Road, Vidyavihar (W)
Mumbai 400086
India
Phone:N/A Fax:N/A
2Sync - Global Hosting Solutions is a web solutions provider that opened its doors for business in the year 2014. We provided servers throughout the globe and are devoted to satisfying our vision of helping people "get their presence on the internet".

We help individuals and small businesses establish their online home through a set of Shared, VPS, Dedicated Server, Colocation, etc. services. Our wide selection of servers with a global reach and reasonable costs make these services ideal for individuals and small businesses.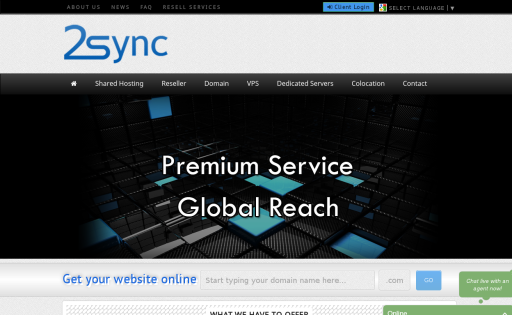 2Sync.co is a multiple location offshore hosting solutions company.
We thrive to provide the best service for our clients. We maintain a strict Quality of Service on all our service as this is a key factor which we consider for a sustainable growth of the company.
Our innovative business model is based on three things:

1. Quality of Service.
2. Reliable Support.
3. Inculcating new ideas / methodologies.

2Sync has been started by the veterans of the hosting market. The staff force is not very big as we have dedicated and efficient staff willing to put their "work" as number one priority.

Our only motto is to provide Quality Hosting Solutions, so that we can build a positive relationship with each client that signs up for any of our service.