Address: Spectrum House
Bromells Road
London SW4 0BN
United Kingdom
Phone:+44 370 321 2020 Fax:N/A

We were founded in March 1999 and initally offered web hosting on shared servers and domain registration. Java hosting was an early service that set us apart from other hosting companies of the time (and now!) and this was joined with ColdFusion hosting a few years later.

Over time we become a RIPE member and accredited domain registrar, and took our our own contracts for multihoming, datacentres and so on. Our offices have always been based in London and so has our datacentre equipment. This allows us to get on site quickly in case of emergency.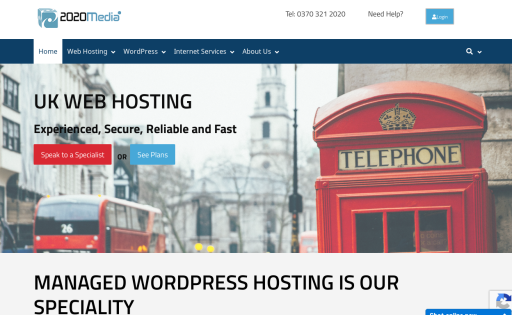 A range of competitively priced shared and dedicated hosting options. Our shared hosting specialises in advanced technologies like WordPress, Joomla, Drupal plus more niche services like Java, ColdFusion and .NET.
We offer dedicated and virtual servers, with Linux or Windows OS.
The company also offer Broadband of all kinds to business users.

Innovative and Forward Looking

Having weathered the dotcom bubble and burst of 2000-2001, 2020Media had kept pace with all aspects of internet development. From technical innovation to internet governance, we get involved in shaping the internet of tomorrow. New services are always being developed and improvements made to our network and infrastructure to make it more resilient in a age where cybersecurity is ever more important.
Stable and Reliable

Past and present clients include Barratt Homes, Age Concern, several County Councils and Government Departments – along with thousands of small and medium size organisations. The company is entirely self funding and profitable providing its clients with quality hosting services at honest prices and the security of knowing that your web site is not at the beck and call of a bank loan or a hedge fund.

Climate-Change Aware and Carbon Neutral

Since 2008 when we first started planting trees, 2020Media has sought to offset our carbon footprint, as well as reducing our greenhouse gas emissions. Whilst we try to reduce our carbon emissions as much as possible with our green servers and choice of datacentre, we recognise that 100% neutrality is not attainable without carbon offsetting. That's why we plant a tree to offset the carbon on every server rented from us. All carbon in the service we provide is offset through UK tree plantations.
Shared Hosting starting at £4.99/mo
Domains: 1 Disk Space: 1 GB Bandwidth: 10000 v/mo Control Panel: Yes Money-back Guarantee: 30 day
£4.99 Get Started Fast Ideal if you are just starting out Monthly hosting for 1 website with up to approximately 10k visitors. Includes email. Fast RAID Storage Fast Content Delivery Network 5 POP/IMAP mail accounts Free Domain Name
Reseller Hosting
Cpanel Servers We offer a range of cpanel-based servers from shared, through cloud, to dedicated. Domain Name Management A full featured multi-level domain management control panel that keeps you in control. Rewards Some of our resellers want to hand off their customers to us when they've completed a project. We reward them with a generous commision, even on entry-level shared hosting plans.
Dedicated Servers
Your solution will be supported by a team of UK-based technical engineers available 24/7/365, plus a dedicated account manager. Our experienced system admins will work with you to build a resilient, high performing setup that will be connected to the best network location in the UK.
Cloud Hosting starting at £20.00/mo
Monthly £20 Ideal for testing Designed for the development stage 20GB HDD 20GB Monthly Data 512MB Dedicated RAM 1 CPU 1 Dedicated IP