Address: Hawthorn House
Southwell Road West
Mansfield NG210HJ
United Kingdom
Phone:03333442720 Fax:N/A

With 20 years' experience to draw upon, they created a hosting company that would break from the stale, established practices prevalent in the industry.
No longer would they be satisfied with providing 'adequate' hosting services. With 20i, they've created a next-level premium hosting product that's available to all.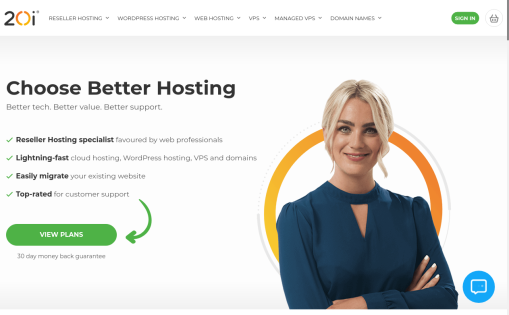 The founders of 20i, John and Tim Brealey, are veterans of the web hosting and domain industries. Before founding 20i in 2016, they were responsible for 3 very successful companies: Webfusion, Heart Internet and 123-reg.

In 2016 the brothers founded 20i. Their ambition was to create a web hosting company that works with its clients as partners: to provide them with the necessary tools and platform from which to grow their business together, for everyone's benefit. They were to do this with combination of cutting-edge technology, talented developers and a UK support team of hosting experts.

Do you want more freedom than shared hosting? Then try our virtual private server (VPS) range. These are based on powerful hardware: fast CPUs, 100% SSD storage, range from 1 GB to 16 GB RAM. Like all our hosting, they're UK-based. You can choose between Managed VPS - where you can get all the best features of our cloud web hosting on a managed platform - or Self-Managed, where you have more freedom to install what what you choose.

Try out 20i today. You won't be disappointed.
Shared Hosting starting at £4.99/mo
Domains: 1 Disk Space: 10 GB` Bandwidth: 50 GB Control Panel: Yes Money-back Guarantee: 30 day
Startup Host 1 Website £4.99 10 GB SSD Web Space 50 GB/Month Bandwidth 1 × MySQL Database 1000 10 GB Mailboxes Free Wildcard SSL Certificate 80+ One-Click Installs Malware Scanning Free Daily Backups Website Builder 1 Tbps+ DDoS Protection Free Website Migration Free CDN Website Acceleration Suite
Reseller Hosting starting at £34.99/mo
Unlimited UK Reseller Hosting First month only £1 Then £34.99 per month 30 day money back guarantee
VPS Hosting starting at £9.99/mo
Core 1 GB25 GB100 Mbps£9.99/pm