Address: 30 Knightsbridge Rd Suite 525
Piscataway NJ 08854
United States
Phone:732-400-8134 Fax:732-400-8135

24Shells, Inc. is a global provider of business and open internet infrastructure. Thousands of customers look to us to deliver the most robust and cost effective infrastructure solutions for their IT needs. Our product portfolio ensures that we can meet those needs quickly and efficiently with a flexibility seldom offered by our industry competitors. Dedicated servers, private and public clouds, virtual private servers, award winning infrastructure virtualization, IP transit, and fanatical support help us to provide every customer with the platform that meets their every demand constantly.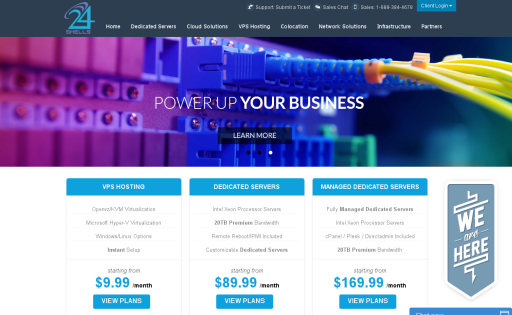 Founded in 2003, 24Shells is one of the leading dedicated server hosting solution provider offering dedicated servers managed dedicated servers,VPS Hosting, linux and windows based web site hosting. We offer servers in multiple locations with our Flagship facility in New Jersey. We have recently opened new location in Los Angeles.
VPS Hosting starting at $9.99/mo
VPS Hosting provides the perfect alternative between shared server hosting and dedicated server hosting. With the VPS you have direct control over a section of a dedicated server to install your preferred operational system and any software. Choose 24Shells for your VPS hosting needs for a broad range of services and support. We offer several plans for Linux VPS and Windows VPS hosting and are available with instant setup and SolusVM VPS Control Panel for easy management. Below you can find a comparison chart which compares the features of each plan including Hard Drive, RAM, Bandwidth and other features. Our dedicated professionals can help you to select the right VPS hosting configuration and conduct software configuration that are tailored to your needs. Linux VPS CPU Cores Hard Drive RAM Bandwith IP Price OpenVZ 4 25 GB RAID 1.0 GB 5TB 1 $9.99/mo
Dedicated Servers starting at $79.99/mo
Dedicated servers are available in multiple geographical locations at same low cost. Our affordable self managed dedicated servers provides you with the advantage of a physical server that is not shared with any other user. 24Shells offers a wide range of dedicated servers at excellent prices with the latest enterprise grade hardware. We also provide you option of high bandwidth dedicated servers. Below you will find dedicated servers plans available in multiple pre-configured options. Select the plan that is right for you and customize it specifically to your needs. Single Processor CPU Hard Drive RAM Bandwith IP Price Intel Xeon Quad Core E3-1230v2 3.3GHz/core 500GB HDD 8GB DDR3 20TB 5 $79.99/mo
Cloud Hosting starting at $5.00/mo
20 GB SSD Storage 1 GB RAM 1 CPU 2 TB Bandwidth
Colocation starting at $79.99/mo
Make 24Shells Inc. the home of your business infrastructure. Relocate your critical assets to our world class purpose built facility and reduce your running costs across the board from hardware maintenance to power and network. Our best-in-class technicians are on hand 24 hours a day to help solve issues from firewalls to routers and switches. All this AND a 100% network and power SLA guarantee. Below you will find our Colocation Hosting plans which compare space and the features of each plan per Unit, Power, Bandwidth and other features. Rack Space POWER BANDWIDTH LOCATION PRICE 1U Single Server Colocation 1A at 208V 20TB Piscataway, NJ $79.99/mo