Address: Flat No. – 302, 3rd Floor, C wing, Sai Simron CHS.
Deonar Village, Near Metal Box Company, Deonar
Mumbai 400088
India
Phone:N/A Fax:N/A

365ezone aims to provide a Hosting service that is fast, reliable, and cost-effective.
Our interest is in providing access to high-end shared and dedicated hardware for the low cost of hosting. We cater to individuals and small organizations who require cutting-edge solutions, but who may not have the same budget as a large company.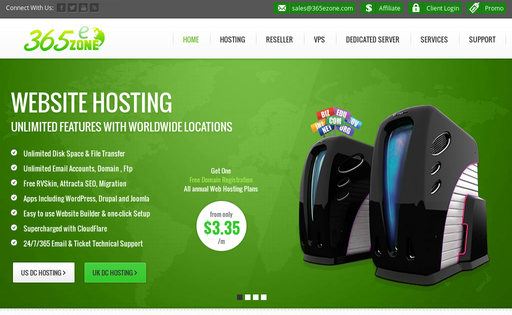 365ezone.com - Offer Quality High Speed Linux & Windows based Shared Web Hosting Reseller hosting , Vps Hosting , Dedicated Hosting, Provides you with the best, cheapest, domain hosting, ftp hosting, fastest and affordable Web Hosting Services.
About Datacentre - Our Data Center located in 601 W. Polk St. #250 Chicago, IL 60607 -United States

Key Benefits
10,000 square feet available in bakers racks, cabinets , private suites, and cages.
Power: 200 watts per square foot, 1.8 meg
Shared Hosting starting at $0.80/mo
Domains: 1 Disk Space: 40 GB Bandwidth: 100 GB Control Panel: Yes Money-back Guarantee: 30 day
STARTING FROM $0.80 PER MONTH 40 GB Disk Space 100 Bandwidth 1 Hosted Domain 10 MYSQL databases FREE Softaculous Free CloudFlare Free Attracta SEO
Reseller Hosting starting at $6.95/mo
VPS Hosting starting at $3.49/mo
Disk Space 50GB RAM 256 MB Bandwidth 500GB
Dedicated Servers starting at $129.00/mo
Intel Atom STARTING FROM $129 PER MONTH Intel Atom D510 Dual-Core 1.6GHz w/HT RAM: 2 GB Disk Space: 1 TB Bandwidth: 5TB IP Address:- 4 100Mbps Uplink CentOS 64bit Latest Free CP: cPanel Ready in 24-48 Hours
Cloud Hosting starting at $3.49/mo
Disk Space 50GB RAM 256 MB Bandwidth 500GB