Address: 2300 Gateway Centre Blvd
Suite 101
Morrisville NC 27560
United States
Phone:1.800.706.2908 Fax:1.800.706.2908

We have been providing Hosting and Cloud services since 2001.
We have deployed over 30,000 Customers on our platform. Customers trust 3essentials to deliver hosting services year after year.
We are proud to be a privately owned company and not part of any larger company. This allows us to serve our customers with more flexibility. We are not a hosting reseller. We source our own hardware, host it in our data centers that we manage on our platform we built from the ground up.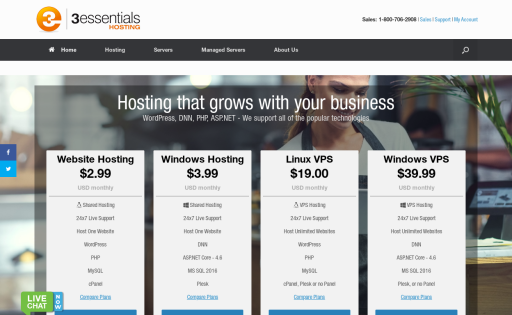 We have been in the business of providing Hosting and Cloud services to the Small Business sector since 2001. 3essentials strategic approach to Cloud Solutions centers around three main core principles that are focused, your small business.
Perform
Any platform we provide has to perform at a high level. Our goal is to provide Cloud services that perform in the market place. Balancing speed and reliability at an affordable price point is what 3essentials has been doing since our inception.
Shared Hosting starting at $2.99/mo
Domains: 1 Disk Space: 1 GB Bandwidth: Unlimited Control Panel: Yes Money-back Guarantee: 30 day
Pro One $2.99 Yearly - SAVE 50% Monthly - $5.99 1 Web Site 1 GB SSD Storage Unlimited Email Accounts Unlimited Bandwidth* cPanel Included
VPS Hosting starting at $49.99/mo
Managed One $49.99 Monthly Yearly Save 10% 30* Web Sites 60 GB SSD Storage 2 GB RAM 1 CPU Core Unlimited Email Accounts Unlimited MySQL DB Plesk
Dedicated Servers starting at $89.99/mo
Dedicated 4G $89.99 Yearly - Save 30% Monthly - $128.56 Intel® Xeon® E3-1240 v5 3.5 GHz Turbo 4C/8T 1 TB SATA RAID 1 Drives 4 GB RAM Windows 2016 | CentOS 7