Address: 404-999 Canada Place
Vancouver V6C 3E2
Canada
Phone:866-708-4678 Fax:N/A
Our Data Center with backup power generators and HVAC units provides state of the art capabilities meeting the high demands of your online business. You'll also get :
Faster and Maximum Up-Time. Our data center use a "FastFiber" network designed to deliver optimal operation time.
High Throughput and Packet Per Second Capability. Backbone communication services work to meet the intense needs of your business.
Multi-Layer Network Security. Our fully redundant network guarantees the highest security with no single point of failure.
Virus Protection. We provide Virus and Malware Email and website scanning, protecting your site from any destructive bugs.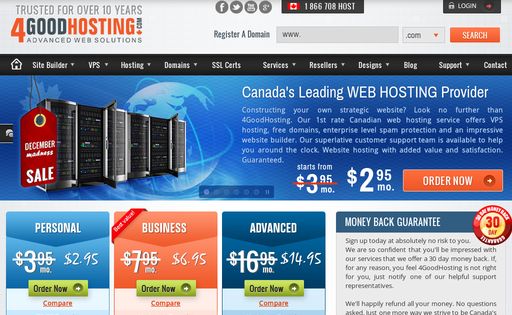 Canadian web hosting is what cements your website on your 'lot' of the World Wide Web. The importance of it can't be overstated – no hosting, no visible website – and with that understood you need to trust yours to a reputable host like 4GoodHosting.
Shared Hosting starting at $2.95/mo
Domains: 1 Disk Space: 5 GB Bandwidth: 50 GB Control Panel: Yes Money-back Guarantee: 30 day
50 GB Transfer 5 GB Storage Web Control Panel Domain Name Host 1 Website Softaculous(over 300 Scripts) WordPress, Joomla & more..
Reseller Hosting starting at $35.00/mo
4GoodHosting provides its Canadian reseller hosting customers with customized control panels and servers, and the reach and usability it offers them makes up a large part of the popularity of cPanel reseller hosting. In addition, they're free to add, remove, and modify websites hosted within your Canada reseller web hosting accounts - at their discretion and at any time. The primary hosting provider can be invisible in the arrangement, with your customers having their own branded name servers and of course they'll have their own Control Panel as well to make functional changes to THEIR website while you retain explicit control over the web space. You have no responsibility for the servers themselves, as hardware, software, and connectivity issues are handled in full by 4GoodHosting.
VPS Hosting starting at $19.99/mo
VPS Hosting in CANADA Do you need a Canada VPS hosting plan because you have outgrown your shared hosting account? Are you looking for a Canadian VPS web hosting account that's equipped with all the latest tools for web sites? Are you a reseller who is looking to host unlimited domains through a web server for subscribers? Then look no further for quality virtual private servers! At 4GoodHosting.com, our web hosting service is available to you at affordable prices! Our caring staff is committed to helping you succeed in today's fast-paced virtual world with a dependable website hosting plan you can feel comfortable having. We even offer Linux VPS hosting! Other features and benefits to our web hosting plans include : Full root access 24 Hour Monitoring Comprehensive Perl, Python, ASP.net, and PHP Support Customizable Configuration Files and System Libraries Selectable Storage and Bandwidth Options Dual Hexa Core Xeon Servers Excellent Intrusion Protection FREE 24/7 Email or Emergency Phone Support FREE Assistance in Data Transfer for VPS Transfers