Address: Randunelelor 1 Street
Navodari
Romania
Phone:N/A Fax:N/A

5CloudHost provides insanely fast loading speed for your website

5CloudHost has powerful servers with 40 cores Intel Xeon CPUs, 128GB of ram, raid-protected SSD Storage and 10Gbps internet connectivity.

We have a custom web-server configuration powered by Apache with PHP7.3, mod_http2, php-fpm, mod_lsapi, opcache and MariaDB for Mysql Databases, that will make any site open instantly.

We are CloudFlare Optimized partner, so you can enable Cloudflare's CDN from your cPanel account with 1 click. CloudFlare makes it easy for any site to be as fast and secure as the Internet giants.

We use SSD-only raid-protected storages, that will improve the fault-tolerance and the read/write speed of the servers(especially MySQL) and so your website will load 10x faster at least.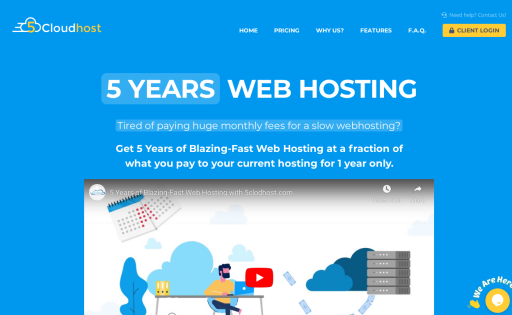 Doesn't matter if you are a blogger, affiliate marketer or online shop owner, anyone who does something online needs Web Hosting. Because customers hate waiting and the site speed is also a search engines ranking factor, the hosting needs to be very fast! 5CloudHost provides 5 years of high-quality Webhosting for less than the price of one. During our launch, your buyers can get five years of hosting for as little as 2 cents per day!
Shared Hosting starting at $1.10/mo
Domains: 1 Disk Space: 50 GB` Bandwidth: Unlimited Control Panel: Yes Money-back Guarantee: 30 day
Cloud Starter Medium traffic personal sites $119 $67/ 5 years 1 Hosted Domain 5 GB SSD Storage Dallas, TX Datacenter Dedicated resources(LVE): 50% CPU(~1.4Ghz) 512MB RAM 20 Entry Processes