Address: 545
Giza
Egypt
Phone:+201223620054 Fax:N/A

At 99CloudTech, we are proud to provide FREE management service for each dedicated server or VPS by a dedicated system administrator.

For 99CloudTech it is fundamental to generate confidence and security in each of our customers, they are the motivation for study, innovation and constant technological changes to improve day by day in our products and business solutions.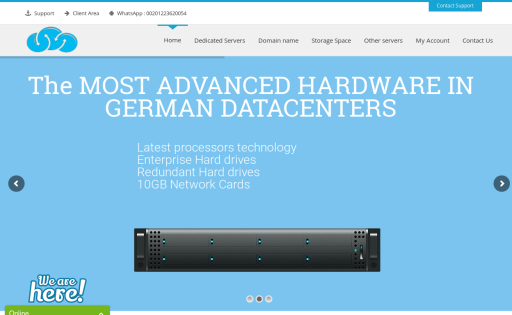 99Cloudtech is specialed in hosting services only.
We are providing professional infrastructure services for our clients worldwide.
Our data center is located in Germany, France, Amsterdam and USA.
* Dedicated Servers (40+ IPs per server) - starts at $27.99
* VPS servers - starts at $6.99
* Shared Hosting - starts at $0.00
* Specialized Email servers
* Backup solutions
* Wide storage options
Refund anytime.
VPS Hosting starting at $2.99/mo
We have a wide range of managed virtual servers, which allow your applications to make a 100% productive and efficient. We are specialized in providing fully-customized virtual private server. Ask for all apps you need to be installed and run, we will install apps and make sure everything is compatible. You do not need to have deep technical experience in managing Linux systems, or configure complex config files, our team of experts will handle all this for you with no extra cost in very short time. VPS 500 LX 2.99$ month Shared processor 512 MB guaranteed RAM 60 GB HDD 1000GB Bandwidth Email relay server (+$10) only 1 dedicated IP
Dedicated Servers starting at $24.99/mo
99CloudTech offers the best dedicated servers in US and different options of additional cloud storage services that can be used for various applications, most importantly for Backup. Backup on external drives is safer than backup on the same hard drives of your servers, so you need a large space of external drives, with high-speed data connection and different connection types. Dedicated Server AC110 Dual Core Atom – 2 Cores /2 Threads 2 GB Memory 500 GB SATA $24.99
Cloud Hosting starting at $7.00/mo
99CloudTech offers the best dedicated servers in US and different options of additional cloud storage services that can be used for various applications, most importantly for Backup. Backup on external drives is safer than backup on the same hard drives of your servers, so you need a large space of external drives, with high-speed data connection and different connection types. We offer managed and unmanaged servers with prices unmatched elsewhere, with which you can combine storage space and form integrated solution with automated backup. Our datacenter located in Germany, with 100Mb/s connection speed. 100 GB Storage - SS01 7 $ month 100 GB Available storage 1 TB Inclusive traffic 2 Snapshots 2 Automated snapshots 10 concurrent connections FTP, FTPS, SFTP, SCP, Samba/CIFS, HTTPS, WebDAV Useable as network drive