Address: 3219 East Camelback Road, #494
Phoenix AZ 85018
United States
Phone:N/A Fax:N/A

Expert Support - Easy to reach support with a goal to quickly resolve all issues you have.
Fast & Reliable - Our servers and cloud are backed by world class infrastructure, partners and expert configuration
Easy to Use - Access your account, support, control panel, files and billing all from a single location
100% Uptime Guaranteed - We guarantee 100% Network uptime. Period.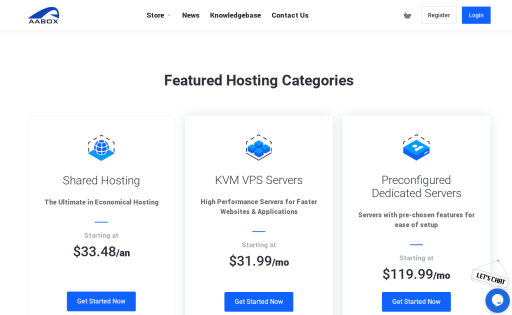 AABox Web Hosting was started in the first wave of hosting back in the first dot.com boom. We have seen the industry change so much and are extremely proud of our ability to thrive throughout all the changes. We have customers that have been with us since those days and that kind of loyalty speaks volumes about our identity.
We are all about building great long term business relationships with our customers, being responsive to industry, business and technology changes and always providing excellent value.
We provide full service hosting and support. From Domain DNS hosting, shared hosting, VPS hosting, Cloud hosting, Bare metal dedicated servers, Managed dedicated servers, hardware firewalls and custom network and vlan configurations.
Shared Hosting starting at $2.79/mo
Domains: 1 Disk Space: 2 GB Bandwidth: Unlimited Control Panel: Yes Money-back Guarantee: 30 day
Pico Starting from $2.79/mo Single Domain Shared hosting at it's best. Affordable, reliable, easy to use and fast to set up. Packed with features like multi-php, cPanel, Softaculous, email management, Varnish Cache, and a 30 Day 100% Money-back Guarantee.
VPS Hosting starting at $22.99/mo
SSD VPS Servers High performance Linux SSD VPS powered by KVM Starting at $22.99/mo
Dedicated Servers starting at $119.99/mo
Preconfigured Dedicated Servers Servers with pre-chosen features for ease of setup Starting at $119.99/mo