Address: Educalaan 9A
Dronten 8251GC
Netherlands
Phone:+31624966614 Fax:N/A

Our offshore hosting solutions are meant:

1) for those who wish to host their data outside of their own country;

2) for those who do not want their data or identity shared with third parties;

3) for those who want to express themselves through freedom of speech;

4) for those who want to host adult, gambling, movie websites, etc.

This doesn't mean that you can engage in illegal activities, which we strictly forbid. This includes, but is not limited to, spam, phishing, and fraud. We'll immediately close your account and blacklist all your labels.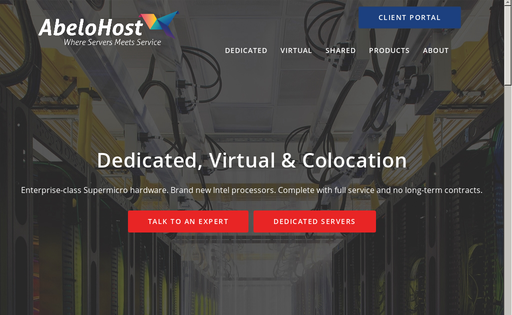 AbeloHost is a web hosting provider established in the year 2012 in the Netherlands. We provide our clients with hosting solutions, dedicated servers and co-location with world-class security. With our offices located in the close vicinity of the datacenter, AbeloHost has 24×7 access to solve any technical issues. Our team is friendly, communicative, solution-oriented, and above all, ready to help at any minute.
VPS Hosting starting at €18.99/mo
SSD Hyper Pro V2 €18.99 2GB RAM DDR4 Intel Xeon E5-2640 v4 @ 2.40GHz (2 Core) Hyper-V Platform 64GB SSD 1 IP Address (2 extra) Remote desktop connection Unmetered Traffic / 1Gbit Port / 100Mbps guaranteed Free DDoS Protection (40 Gbit/s)