Address: Studentska 1A
Varna 9010
Bulgaria
Phone:+359879413135 Fax:N/A

AbsCloud VPS fail-safe servers are an excellent solution for web and software projects that require more resources than the standard hosting solutions.
By choosing a VPS server from AbsCloud, you get guaranteed server resource, more security and server protection, warranty for high quality, professional support, independence from hardware and flexible management, cost control.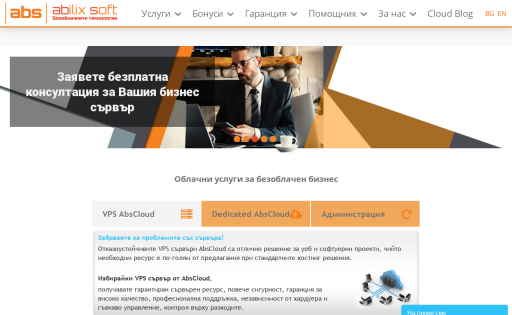 Abilix Soft is a high quality cloud service provider for the business all over the world: VPS servers and individual hosting solutions, different Dedicated servers and server colocation services. A 99.9% uptime guarantee and a unique 99.5% financial guarantee makes our services a great choice for any businesses. Every customer have contact with personal system administrator for fast and reliable server support. Abilix Soft server security, flexible management, daily backup, monitoring and 24/7 professional server support provide fast speed and protection for all your important projects like web server, mail server, file server, servers for software and more.
VPS Hosting starting at €61.00/mo
TropoCloud CPU count: up to 3 RAM MB: up to 3104 SSD/HDD GB: up to 25 / 115 Peak Mbps: up to 75 61 euro./mo. exc. VAT
Cloud Hosting starting at €119.00/mo
TropoCloud CPU (брой): up to 3 RAM (MB): up to 3104 SSD/HDD GB: up to 25 / 115 Internet (Mbps): up to 75