Address: 63 Ardale Rd.
Paramus NJ 07652
United States
Phone:1-800-391-4577 Fax:N/A

At AccuPages we do not overcharge our customers. You get the latest version of cPanel, top of the line Servers and a 30 day money back guarantee. Our state of the art Data Center is located in Dallas, Texas.
Visit Softlayer.
AccuPages boosts your Web Pages speed:
If your web pages do not load within 8 seconds max, reasearch proves that visitors will most likely leave your site!. AccuPages uses mod_gzip, a proven web-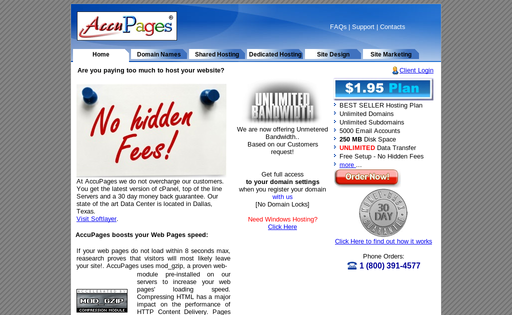 AccuPages provides fast and secure Web Hosting to a large client base. Toll Free Support. Instant Account Activation.
Starting at $1.95 a month.
Shared Hosting starting at $1.95/mo
Domains: 1 Disk Space: 0.25 GB Bandwidth: 2 GB Control Panel: Yes Money-back Guarantee: 30 day
All standard features on our shared hosting plans are "premium" features, with absolutely no restriction on the number of domains hosted on your account, parked domains or subdomains!. There is also no restriction on the number of additional domains that you can setup within your webspace. The latest version of cPanel is incuded with every account to help you manage all aspects of your account: setup additional domains / sub-domains / setup email accounts / forwarders / cgi scripts / databases / ftp accounts, change passwords, view visitors statistics etc. Also included is the latest version of Fantastico De Luxe: An amazing application that lets you install some of the best PHP scripts with just a few clicks of a mouse: Forums, Guest books, Images Galleries, Shopping Carts and many more. Now you can save countless hours installing and configuring the scripts yourself.
Dedicated Servers starting at $109.00/mo
All of our dedicated servers include the following services: 24/7 network / server monitoring Installation of client specific software versions Security applications are installed regularly to guard against unauthorized access and viruses. Security patches are installed immediately when advisories are released. Data is backed-up DAILY Large capacity Uninterrupted Power Supply Factory Installed - Linux 9.0 Full Root access via the direct web management S/W (imanager) and via Telenet/SSH We are confident that if you compare us to any other web hosting company, you will find our services unparalleled at these prices!