Address: 2637 E Atlantic Blvd
#23519 Pompano Beach
Pompano Beach FL 33062
United States
Phone:855-219-0431 Fax:N/A

Ace Cloud Hosting (ACE) is an application hosting provider with headquarters in Florida, USA. Winner of awards like K2 2019 Award for Customer Satisfaction, User Favorite Award by Accountex USA 2016 in application hosting category, and Great User Experience Award 2018 by FinancesOnline, ACE is renowned for its hosting services in diverse industries like accounting, construction, real estate, legal, and several others.

Ace Cloud Hosting is an Intuit Authorized Commercial Host and QuickBooks Solution Provider and provides a wide range of cloud services including managed server hosting, private server hosting, application hosting, Desktop as a Service (DaaS), among others, which help clients to achieve their business objectives by providing the best-in-class cloud solutions.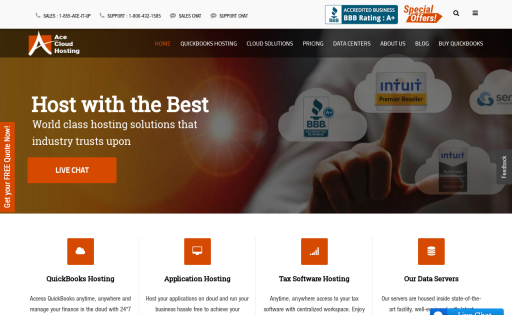 Ace Cloud Hosting is an Intuit authorized hosting provider and premier reseller for QuickBooks software. Building on more than 10 years of experience, we provide a wide range of cloud services that include QuickBooks hosting, application hosting, and dedicated servers solutions with world-class services. We use a structured approach to deploy appropriate cloud computing components to deliver quality services at reduced costs.

We are specialized in-
1. QuickBooks Pro, Premier and Enterprise Hosting
2. Lacerte Tax Hosting
3. Pro system Fx Tax Hosting
4. ACT CRM Hosting
5. Sage 50 Hosting
6. ATX Tax Hosting
7. Sage 100 and Sage 500 ERP Hosting
8. Drake Tax Hosting
9. Application Hosting - MS Office, Adobe Reader etc.
10. Dedicated Servers