Address: Ikotun
Alimosho 100275
Nigeria
Phone:07081540435 Fax:N/A

Simple. Powerful. WebHosting!

The best choice for fast, reliable and affordable website hosting solutions, with 24/7 award-winning technical support and 99.99% uptime guarantee. Everything You Need – Already Included At No Extra Cost! Choose your desired cPanel web hosting plan and handle your web hosting administration with ease. All of this is provided to you over Top Notch Quality Hardware and Network. Our Shared Web Hosting Packages are tailored and optimized for smooth operations of Small & Medium Business web sites.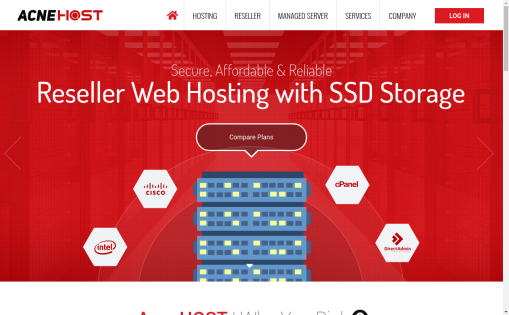 AcneHOST is a Registered company, in Providing cheap and affordable web hosting in Nigeria and World Wide 24/7 support team such as offshore dmca hosting, virtual private server, and dedicated web hosting.
Shared Hosting starting at ₦199.00/mo
Domains: 1 Disk Space: 5 GB Bandwidth: Unlimited Control Panel: Yes Money-back Guarantee: 30 day
5GB Pure SSD Storage Unlimited Monthly Bandwidth Unlimited Hosted Websites Account Free Domain Name Unlimited Free SSL 24/7 Customer support STARTER
Reseller Hosting starting at ₦2500.00/mo
cPanel Reseller Hosting You'll be amazed at how easy, inexpensive and profitable it is to start your very own web hosting company! We provide you with all of the tools and support needed to have your business up and running in only a few minutes time. Create unlimited web sites under your own brand name, own nameservers, own WHM/cPanel, with your own prices, packages and features. AcneHOST is the best choice for fast, reliable and affordable reseller hosting solutions with 24/7 award-winning technical support and 99.99% guaranteed uptime. We do not make empty promises nor guarantees. And to assure you that this claim is true, we are offering Industry Leading 30 Days Money Back Guarantee – No Questions Asked!
Dedicated Servers starting at ₦20000.00/mo
Dedicated Servers For workloads and applications that demand robust compute and reliable performance, choose AcneHOST Bare Metal—your high-performance, single-tenant hosting solution. Your custom-configured or on-demand solution includes dedicated CPU with the latest Intel® processors, up to 128 GB RAM, NVMe SSD storage and increased disk I/O for more consistent networking and control than virtual servers. AcneHOST's Dedicated Servers are Fully Managed solutions so you don't have to hustle and worry about running your server or fixing occurring problems. We always encourage you to request a Custom Server, so we can match your business needs completely.
Cloud Hosting starting at ₦1666.00/mo
Cloud SSD Hosting Our Cloud Web Hosting platform has been designed to provide the Quality, Reliability, and Speed required for your professional web presence. Our Servers are powered by PureSSD and Nginx frontend that help us delivering to you a service with great stability. All core services are closely monitored around the clock to ensure maximum level of uptime. We are using our own hardware and fully redundant CISCO powered DDoS protected network. If your website is too big for Shared Hosting and not yet big or profitable enough to meet VPS/Dedicated Server, Dedicated Hosting is right match for power under affordable price. We do not make empty promises nor guarantees. And to assure you that this claim is true, we are offering Industry Leading 30 Days Money Back Guarantee – No Questions Asked! img