Address: 304 S. Jones Blvd #666
Las Vegas NV
United States
Phone:3023719959 Fax:N/A

Since 2001, actsupport offers seamless outsourced web hosting support, remote infrastructure management and customer support services to web hosting providers, data centers and blade server companies worldwide. More than 5.3 million websites are currently managed by actsupport and is operated as a 24×7 Global Delivery Center(GDC) to 60+ clients around the world. Our service portfolio also includes customer support, product support, multimedia, web-design, mobile/web application development and support.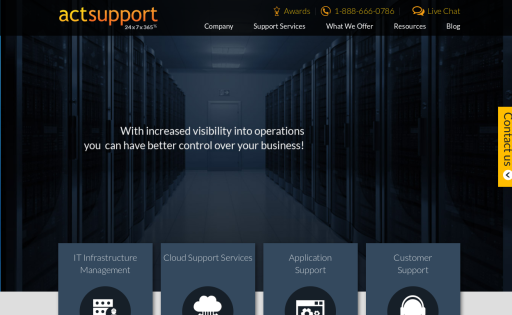 Web Hosting Support
actsupport offers 24×7 outsourced web hosting support for hosting providers across the globe, since 2001. With a team of skilled and experienced professionals we are capable of handling L1, L2 and L3 queries. We specialize in setup and administration of Windows, Linux servers and widely known hosting control panels. Our dedicated web hosting support staff works exclusively for you independently and they would co-ordinate with your in-house support team. We offer Shared, Semi-dedicated and Dedicated support models via different support channels . Our client rely on us for our honest and consistent effort to outperform their need's. You can gain reliable Web Hosting Support from actsupport that will boost your company's continuity and overall efficiency. We mean business and that's why our clients rely on us for managing their infrastructure while they focus on Sales and Marketing.