Address: PO Box 640962
Beverly Hills FL 34464
United States
Phone:3525271134 Fax:N/A

We serve a global audience with our main offices located in the United States enabling AddAction.net to provide our clients with a cutting edge advantage in the ever developing fast paced world of the Internet.
We provide our hosting services from within Telco-grade Savvis datacenters in the United States. Our selection of industry partners allows us to bring you the highest quality of service and connections, and since we have a large buying power we can do this at discounted prices.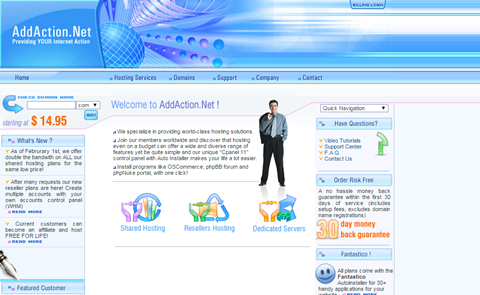 AddAction.net offers THE PLAN. This package is all you need for business and personal site. Now with a 6 months free trial period.
Shared Hosting starting at $7.95/mo
Domains: 1 Disk Space: Unlimited Bandwidth: Unlimited Control Panel: Yes Money-back Guarantee: 30 day
Our reliable web hosting services are designed to be up 24x7x365 without question. Every part of our network, datacenter and web hosting services has been designed from the ground up by experienced engineers to ensure that you never have to wonder if your website is up. Give us a try today!
Reseller Hosting starting at $34.95/mo