Address: 421 Maiden Lane
Fayetteville NC 28301
United States
Phone:800-878-4084 Fax:910-321-1390

From our CEO:
'Welcome to AIT, home to over hundreds of thousands web sites and domains to include Fortune 500 companies as well as home-based businesses. AIT was founded as a garage start up in North Carolina over 20 years ago. During that time I have seen and helped thousands of businesses grow, improve and profit. I have seen start ups go to million dollar companies using our web hosting and ecommerce solutions. Because of this, AIT has grown to a two-time INC 500, multimillion dollar web hosting and technology company. From a two-car garage to a 93,000 Square foot data center, AIT has always been entrepreneurial and customer-centric. Our company culture, core values and technology were built from the ground up and forged on the basis of putting the customer first. I am always amazed at the ingenuity of entrepreneurs from selling health products, collectibles, motorcycles and real estate to providing dating, gaming and financial services.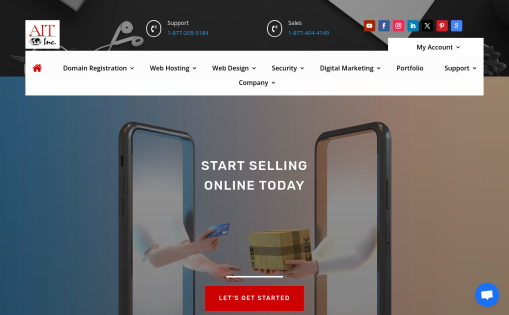 Advanced Internet Technologies, Inc., (AIT) is a privately-held North Carolina-based firm specializing in providing mission critical infrastructure to application, platform and hosting clients. Founded as a garage enterprise in 1995 by Clarence Briggs, a service disabled veteran businessman, AIT is a 100% privately owned Infrastructure as a Service (IaaS) company that provides infrastructure resources to application, platform and web hosting clients around the world ranging from small to medium sized companies and organizations to Fortune 500 businesses, state and federal government entities.
AIT outright owns and operates a 93,000 Square Foot data center in its Corporate Headquarters in Fayetteville, NC. AIT's core business is providing Infrastructure as a Service (IaaS) to website and application hosting clients. AIT is one of the longest standing web hosting companies in the industry. AIT has a consistent track record of unblemished profitability, a major reason why AIT earned a place on the Inc 500 list two times and the Deloitte & Touche Fast 500 list three times.
Shared Hosting starting at $2.36/mo
Domains: 1 Disk Space: 150 GB Bandwidth: Unlimited Control Panel: Yes Money-back Guarantee: 30 day
150GB SSD storage cPanel control panel One click installs Free backups Unmetered bandwidth 1 included domain 35 subdomains 10 email accounts 10Gb email storage SSL not included Subscription for $0, 1st mo*
Reseller Hosting
Reseller Hosting Resources Web hosting is the fastest growing segment of the Internet services industry, and revenue among web hosting providers is expected to top 377 billion dollars this year.. You have come to the right place for launching your digital business. AIT has the #1 rated reseller program on the web for good reason - we understand partnering and your bottom line. Anyone can become an AIT reseller and earn thousands of dollars. a month working part-time. Many of our resellers copy our content using our reseller content wizard, integrate and brand it with their own businesses and reap the profit. We protect your anonymity by private labeling nearly everything so you put your brand name on it. Your customers will never know who we are. We minimize your costs for cutting edge technologies so you can compete with any hosting company or ISP on the web. We provide you with marketing assistance and sales leads. AIT offers numerous products and services FREE, allowing you, the reseller, unlimited potential in creating additional recurring monthly revenue.. When you see the "Buy/Install" button on a page, click to find out more about reselling a specific product or service. Each page will list the information you need to maximize. your monthly revenue.
VPS Hosting starting at $4.99/mo
Intel Xeon 1 Core 25 GB Disk Space Unlimited Data Transfer 1GB RAM Free Weekly Backups Control Panel: Multiple choices 1 IP
Dedicated Servers starting at $89.00/mo
Processor 3250 Clock Speed 4 × 2.50 GHz Ram 8 GB DDR3 ECC Storage 1 TB SATA Bandwidth / Traffic 15 TB IPs 3
Colocation
Colocation Hosting Need Financing? 93,000 sq. ft. Facility AIT's Colocation customers benefit from a 93,000 square ft. climate controlled, safe and secure hosting facility equipped with multiple carrier redundant network connectivity. Benefit from world class technology and infrastructure. Robust Networks AIT's Gigabit Network provides fast throughput and versatility. We provide custom configurations based on our clients' needs. Remote Support Available If you are looking for peace-of-mind knowing that your server is always available with a constant presence, then sign up today. Our highly trained and certified staff is on-site 24/7/365. to provide timely responses to your needs and those of your customers.