Address: 19314 Doha
Qatar
Phone:009746128030 Fax:N/A

High Performance server
We operate one of the most advanced 100 Gbit networks in the world, and SSD Drive Speed Boost with DDoS protection.

Fully Redundant
Our cloud platform offers a 99.99% SLA uptime guarantee with full hardware and network redundancy to keep your services online.

Secure Infrastructure
Certified datacenters provide advanced fire and intrusion protection combined with enterprise networking hardware.

Instant Activation
Your ordered product will be automatically and instantly activated as long as you are using a verified PayPal account for your purchase.

Dedicated Support
Our dedicated in-house support team is available 24/7 to answer all technical difficulties you may encounter with any of our services.

Super Cloudlinux OS Platform
We proudly use the super-platform CloudLinux for stability & efficiency. CloudLinux OS is the leading platform for multitenancy.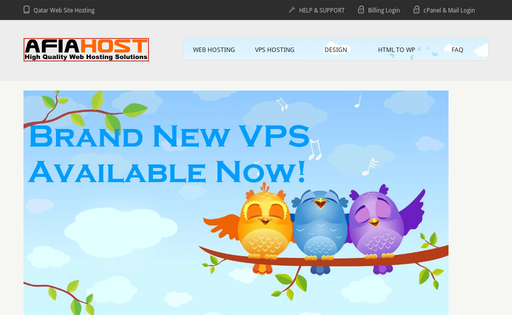 Afiahost.com offers cPanel Website Hosting and Domain Registration services services. Our commitment to offering a quality and feature-rich hosting service separates us from the pack. Our combined offer of 24x7x365 Award Winning Support 24x7, 99.9% Uptime Guarantee and 30 day Money Back Guarantee help to certify our hosting services as nothing but the best.
Shared Hosting starting at $0.75/mo
Domains: 1 Disk Space: 5 GB Bandwidth: 10 GB Control Panel: Yes Money-back Guarantee: 30 day
$8.99/ year Hurry Order Now 1 Hosted Website 5 GB SSD Storage 10 GB Unlimited Bandwidth
VPS Hosting starting at $8.95/mo
Nano $8.95/ month 2 GB RAM 1 CPU CORE 20 GB NVMe SSD 1 TB Premium Bandwidth 1 Dedicated IP CentOs, Ubuntu, Debian 1Gbps Uplink