Address: Real 1
Bcoor City 4102
Philippines
Phone:(+63) 946 384 7918 Fax:N/A

You deserve your website to be fast regardless the size or number of visitors you receive. Fast websites rank higher in search engines, generate more leads, and make more money. Our private cloud utilizes state of the art technology to make this possible with affordable power and supreme reliability. Whether you're building your first website or are already established, we have a solution that's affordable and scalable. Best of all, it's easy!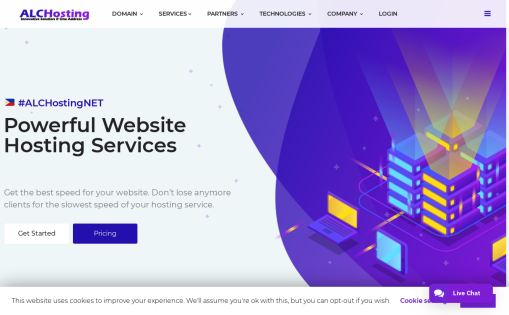 Our growth has stemmed largely from our CEO's and team's strong technical focus and experience. We've built the industry's leading customer service team and continually do everything we can to offer faster service than our competitors. Our user-friendly solutions have you covered whether you're a brand new user looking to start a website or an expert developer; a small venture or even a large business. We've got you covered whether you're looking to host Linux, Windows, Joomla, WordPress, Drupal or something in between. The bottom line is that we love what we do and love working with users like yourself!

Offering the level of service we would want to use ourselves has been a lot of hard work because we never settle for just "good enough". Like you, we take our websites and web development seriously. It's been worth it though because we enjoy making our customers happy and helping you succeed. If it were easy, every hosting company would offer the same level of service.
Shared Hosting starting at $3.99/mo
Domains: 1 Disk Space: 150 GB Bandwidth: Unlimited Control Panel: Yes Money-back Guarantee: 30 day
Titanium Ideal for beginner/personal websites FREE LiteSpeed 15GB SSD Disk Space Unmetered Brandwidth Hosting for 1 Website Up to 50 Emails Accounts Free Domain Name 24/7 Technical Support 99.9% Uptime Guarantee
VPS Hosting starting at $19.99/mo
Cloud VPS Hosting More power than Shared Hosting Speed, enhanced security & developer friendly More isolation Choose your management level Free migration (w/ Managed VPS)
Dedicated Servers starting at $198.00/mo
Dedicated Servers For most intensive business needs Customize your server's resources & power Complete isolation Choose your management level Free site migration (w/ Managed)