Address: Ceintuurbaan 28
Zwolle 8024AA
Netherlands
Phone:N/A Fax:N/A

Goedkoopste van Nederland en België

Wat is jouw volgende uitdaging? Misschien wil je een eigen bedrijf opzetten, bloggen of een webwinkel beginnen? Wat je plannen ook zijn, er komen vaak extra kosten bij kijken. Gelukkig hoeft dat niet het geval te zijn voor je domeinnamen of webhosting.

Registreer je domeinnaam bij de goedkoopste hostingpartij van Nederland en België. Je hebt al een eigen .NL of .BE-domeinnaam voor slechts € 0,75 per jaar. Kies daarnaast het hostingpakket dat bij jouw website past. Altijd onbeperkt dataverkeer en volledig SSD voor de hoogste snelheid.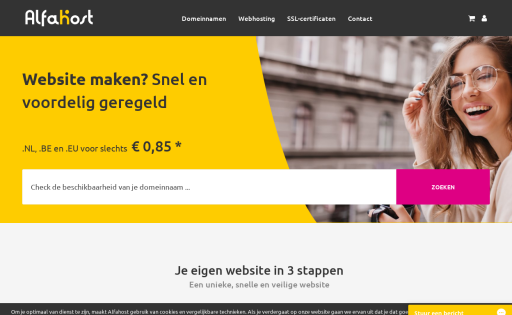 Alfahost maakt een snelle en veilige website voor iedereen betaalbaar. Kwalitatieve webhosting, betrouwbare SSL-certificaten en keuze uit honderden domeinnamen tegen eerlijke prijzen.