Applied Innovations
Address: 1001 Yamato Road
Suite 300W
Boca Raton FL 33431
United States
Phone:866.706.8691
Fax:561.423.0390
Applied Innovations is a Boca Raton, FL based web presence provider (web host) that specializes in hosting on the Windows Server platform. Founded in February of 1999 with the goal of providing the technology and resources that small and medium sized businesses require to make them competitive and successful in the online marketplace at a cost effective price.
Full Suite of Windows Hosting Solutions
Applied Innovations offers a full-suite of Windows Hosting solutions for your business from basic Web Hosting to the complex Managed Cloud Server solutions.
- Clustered Cloud Servers
- Cloud Servers & VPS Servers
- Dedicated Servers
- Shared & Reseller Web Hosting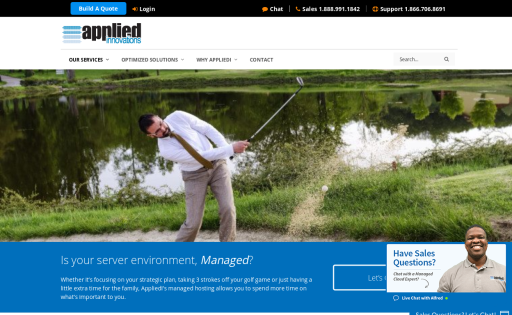 VPS Hosting starting at $279.95/mo
A pioneer in cloud technologies, Applied Innovations has offered VPS Hosting and Cloud Servers since its inception in 1999. Today Applied Innovations is one of Microsoft's closest hosting partners and industry leaders in high-performance, secure cloud servers on AWS, Azure, our Private Cloud, and even on 3rd party clouds like Digital Ocean. Our Microsoft Windows Cloud Servers and Managed Linux Cloud Servers offer all of the functionality and performance of the cloud, at prices that are comparable to classic VPS servers. In addition, you'll get daily backups, automated updates, centralized antivirus, and 24×7 expert support with every managed Virtual Server. 4 CPU CORES 8 GB of Memory 160GB of SSD Storage Daily Backups with 7 Day Retention Full ServerConcierge Management including Updates, Backup and 24x7 Monitoring
Dedicated Servers starting at $599.95/mo
For complete control of the hosting environment, businesses choose Managed Private Cloud. This level of control supports full customization and security, so you know your data is safe. Every aspect of our service is designed to keep your applications running smoothly with no hassle. Our Managed Private Cloud Solutions, deliver support for a wide range of applications from web based solutions to line of business and database applications. Over the years, we have seen what businesses need: reliability, networking, security, and customer support. We provide the robust environment of a dedicated private cloud, and you can choose either full or partial management. 16 Cores @ 2.1 GHz 32 GB Memory 2x480GB SSD Storage 1TB Backup Drive 8TB of Data Transfer