Artmotion Ltd
Address: Hinterbergstrasse 58
Steinhausen 6312
Switzerland
Phone:+41 43 443 45 67
Fax:N/A
Artmotion Ltd Is a privately held data hosting provider in Switzerland, offering state of the art, highly secure server solutions for businesses of all sizes.
The company provides services such as secure, high performance dedicated servers, neutral clouds to safeguard data and private Swiss mail. The data centers offer ultimate privacy, latest technology and highly efficient infrastructure.
Artmotion is serving businesses in 30 countries, with customer base mostly of medium to large international clients, including Fortune 500 companies.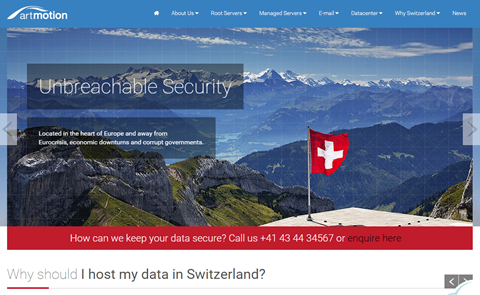 Cloud Hosting starting at CHF20.00/mo
When you partner with us, our in-house experts will work closely with you from planning to deployment to ensure that your business benefits from our encrypted cloud storage solutions. Get an instant estimate of your potential monthly cloud hosting costs by using the Pricing Calculator below. By selecting your specific storage requirements, you will be able to calculate your monthly commitment.