Aspnet Hosting Ltd
Address:
General Stefan Toshev 4, ap.2
Stara Zagora, Bulgaria
London 6000
United Kingdom
Phone:N/A
Fax:N/A
ASP.NET and Windows hosting provider - UK data centers. Providing windows hosting since 2007.
Windows Hosting, ASP.NET Hosting, Windows VPS

When you select windows VPS hosting our mail server offers you superb integration in to Microsoft Outlook with the ability to synchronize your contacts, calendars and tasks within webmail, so you can access your contacts from any computer.

We address our services to users who make a point of the essentials: high-performance hardware, a fast and stable network, and transparent offers with a remarkably good value for money.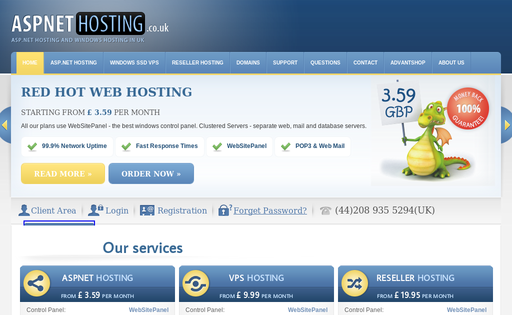 Shared Hosting starting at £5.95/mo
Domains: 1 Disk Space: 5 GB Bandwidth: 200 GB Control Panel: Yes Money-back Guarantee: 30 day
Most windows hosting companies host sites using application pools with 128 MB ram and very rarely more than that. Many of latest asp.net applications need much more than 128 MB ram to work fast. That is why we created hosting plans with a lot of RAM. Each website is hosted using Isolated Application Pool with 1024 MB RAM. High RAM hosting is good for CMS and ecommerce applications like Nopcommerce, Wordpress, Sitefinity, DotNetNuke and many others. More secure MS SQL Database and Web servers give you maximum reliability and performance. Large security user databases and easy access to them remotelly Security Features Emphasis placed on validation, encryption, tracking and potential threats. Fully extensible and scalable Features These hosting plans were created especially to support automated DotNetNuke, NopCommerce, SiteFinity CMS, Community Server 2.1 and more then 60 other application installations. Fast and dedicated customer service second to none in the ASP.NET reseller hosting industry We have wide-ranging experience with troubleshooting windows hosting.
Reseller Hosting starting at £19.95/mo
PRIVATE-LABELED Windows Reseller Hosting. We allow our customers to define every aspect of their web hosting presence. As a Windows Hosting Reseller, you can create your own control panel front for customers, sell your own web hosting packages and setup your own name servers. All of our windows reseller hosting plans now support ASP.NET 4/MVC3/IIS7.5/Web Deploy. Recognized for ASP.NET Hosting and Windows Reseller Hosting excellence.
VPS Hosting starting at £9.99/mo
SSD Windows VPS Hosting Offer: Starting from only £ 9.99 per month. NVMe SSD drives. Win 2019, 2016, 2012R2, Win 10, Win 8 OS