ASTRA CLOUD SERVICES
Address: 3911 Concord Pike #8030
SMB 8489
Wilmington DE 19803
United States
Phone:2108889291
Fax:N/A
AstraHost® Premium Cloud Web Hosting Co. is a U.S based and world class web hosting services company. We have been able to secure a standard and well – positioned office facility in a central business district in Willmingtone, the largest city in Delaware. We are a web hosting company that is set to compete in the highly competitive web hosting services industry not only in the United States market, but also in the global market.
AstraHosts® Premium Cloud Web Hosting Co. We will lease server space and internet connectivity to individual clients and corporate organizations to make their websites accessible over the internet.
We will also provide application-specific services, such as e-mail application hosting and VPS Servers, Cloud Servers, Dedicated Servers, security, email and business features, installed web site applications, providing website builder, security and value-added features, and other website hosting related advisory and consultancy services.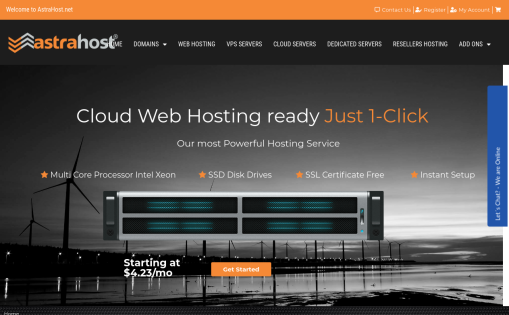 Shared Hosting starting at $2.49/mo
Domains: 1 Disk Space: 5 GB Bandwidth: Unlimited Control Panel: Yes Money-back Guarantee: 30 day
SSD Space: 5 GB Monthly bandwidth: Unlimited Hosted (Add-on) Domains: 1 Free Domains: 0 Free LiteSpeed(20x Faster):Yes Free Daily Backup: Yes Free SSL Certificate: Yes CPU Cores: 1 Cores RAM Available: 1 GB Datacenter Location: US
Reseller Hosting starting at $18.93/mo
SSD Space: 50 GB Monthly bandwidth: 1TB Client Accounts:50 Free LiteSpeed(20x Faster):Yes Free SSL Certificate: Yes cPanel/WHM:INCLUDED WHMCS: OPTIONAL Datacenter Location: US
VPS Hosting starting at $7.25/mo
RAM Available: 0.5 GB SSD Space: 25 GB CPU Cores: 1 Cores Monthly bandwidth: 2TB Free SSL Certificate: Yes 100% Risk Free: Yes Datacenter Location:
Dedicated Servers starting at $128.00/mo
Intel Xeon E3-1230 Dallas, Los Angeles, New York 3.2GHZ x 4 2 x 4TB 16GB DDR3 Unmetered
Cloud Hosting starting at $28.05/mo
DESIGED FOR USERS WHO WANT THE BEST RELIABILITY AND CUSTOMIZATION OPTIONS Enjoy the flexibility of cloud combined with the performance and security of your own dedicated infrastructure. Ideal for workloads with strict compliance requirements, or for when you want control of everything down to the hardware layer. The ultimate in low-cost efficiency and flexibility. Manage traffic spikes without the need to commit to long-term hardware contracts. Also ideal for short-term projects, test and development, or for when you want to get an idea to market quickly.