AtSpace.com
Address: Mathilden str.
Kiel 24148
Germany
Phone:+31 (431) 220 7241
Fax:N/A
AtSpace.com is a free web hosting provider hosting more than 600,000 users online since 2003. We offer both free and paid hosting plans, VPS Hosting, Semi-Dedicated Hostinbg. No matter if you need web hosting for your personal web page or a business web site we offer high quality web hosting services on affordable prices.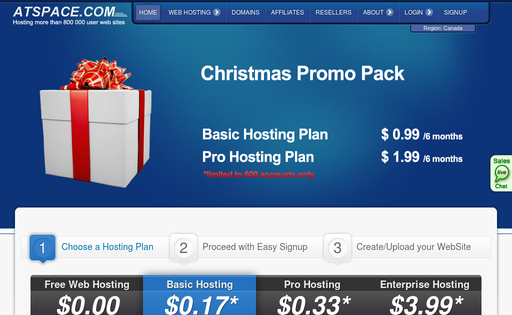 Shared Hosting starting at $0.08/mo
Domains: 2 Disk Space: Unlimited Bandwidth: Unlimited Control Panel: Yes Money-back Guarantee: 30 day
Basic Hosting Plan If you already had some online projects, and know that the features of the Free Hosting Service won't be enough for your next initiative, this is the right place to start. You'll get unlimited traffic, unlimited disk space, and the opportunity to host 2 domains and up to 5 subdomains.
VPS Hosting starting at $10.00/mo
Dedicated CPU: 50% Dedicated RAM: 1GB RAID Storage: 25GB
Free Hosting
1GB Disk Space With the free website hosting plan you'll get 1GB Disk Space. The disk space you'll get with this hosting plan is more than enough for you to create one medium sized website. 1 Domain You can host one domain. You can buy it from us or another provider. And yes, it could be a Top Level Domain – .com, .net, etc. 100% No Ads We do not like ads. That is why, we won't place any ads on your website! 24/7/365 Customer Support With the Free Website hosting plan you get a highly-qualified support team at your disposal 24 hours a day, 7 days a week, 365 days a year. You won't be neglected just because you've chosen to go with the free plan. Traffic Statistics Shows the traffic of the domain names and subdomains in your hosting account. You can see detailed traffic statistics for your hostnames for the current day, last 7 days and for the last 6 months. Unlimited Bandwidth Your account won't be suspended due to over-traffic. If your website becomes really famous and you enjoy a large audience, you won't be pressured to upgrade to a premium service. 1 Email Account With the Free Website Hosting Plan, you can manage one email address. In other words, you can create a single myname@mydomain.com email address. 1 Database You get one MySQL database for free. MySQL is a multi-user SQL (Structured Query Language) database server management system which supports languages such as C, C++, Java, PHP, Perl, Python, etc. Virus Protection We are using ClamAV (anti-virus toolkit), designed strictly for e-mail scanning on mail gateways. It scans, detects and removes any unwanted programs that can potentially corrupt your data, or infringe the normal operation of your computer. Inhouse Control Panel You'll be able to enjoy a fully-featured web-based control panel that puts you in full control of the of your website and related services.