AYKsolutions, LLC.
Address: 801 Gilbert Ct. #212
Iowa City IA 52240
United States
Phone:6309354805
Fax:N/A
Our professional, cheap feature-rich plans start at just 800MB of space with 10GB of transfer for just $5.90 per month. We offer, among other things: Fantastico Script Installer, SiteStudio Web Design, Urchin Web Statistics software and much more. Compare our plans with other top web space providers and you will see the difference in price and features.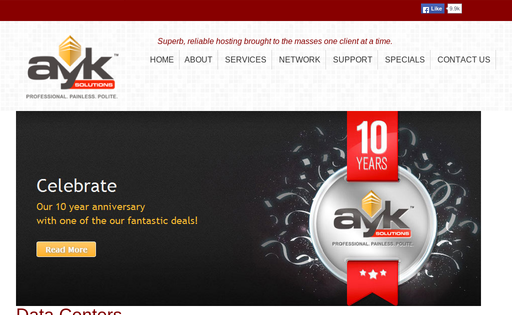 Shared Hosting starting at $6.95/mo
Domains: 1 Disk Space: 1 GB Bandwidth: 20 GB Control Panel: Yes Money-back Guarantee: 30 day
We offer the best shared hosting around for personal and business use! Our prices are very competitive, the space and data transfer we provide are unsurpassed. We always monitor our servers to ensure your websites and applications always load quickly. Being on our fully redundant multi-homed network, you are guaranteed 99.9% uptime.
VPS Hosting starting at $44.95/mo
AYKlite - Windows 30GB 2048MB/Burst to 4GB 10Mbps
Dedicated Servers starting at $275.00/mo
2TB SATA II 24GB 10TB/100TB
Cloud Hosting starting at $280.00/mo
Core i7 950 500GB 4GB 1Gbps Burstable*