Black Nova Designs LTD
Address: Whitecote
Dauntsey
Chippenham SN15 4JH
United Kingdom
Phone:01793 210045
Fax:N/A
We Specialize in:
Web hosting and Design
Tablet and Phone Repairs
Computer Repairs and Custom Builds
Search Engine Optimization
We take your IT needs and give you a creative solution at a low cost.
Give us a call on 01793 210045 or drop us an email on sales@blacknovadesigns.co.uk for a FREE quote!
Or visit www.blacknovadesigns.co.uk and take a look at our portfolio.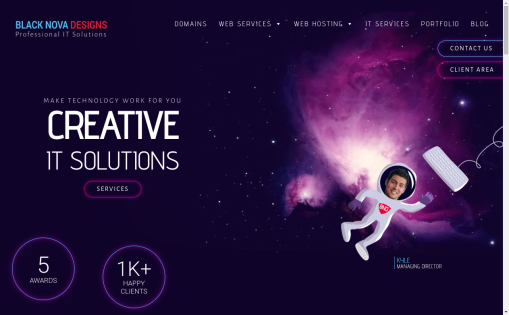 Shared Hosting starting at £3.16/mo
Domains: 1 Disk Space: 1 GB Bandwidth: Unlimited Control Panel: Yes Money-back Guarantee: 30 day
Bandwidth: Unlimited DiskSpace: 1GB Email Account: Unlimited MySQL Databases: 3 Domains: 5 AutoSSL: Free
VPS Hosting starting at £12.00/mo
CPU Cores: 1 Total RAM (GB): 0.5 Bandwidth (TB): 3 Disk Drive (GB): 10
Dedicated Servers starting at £92.00/mo
CPU: Speed: Cores (Threads): RAM: HDD: Connectivity: Bandwidth: E3-1271v3 3.6 GHz 4 (8) 16GB DDR3 2 x 3TB SATA 1Gbps 10TB limit