Blacknight Internet Solutions Ltd
Address: Unit 12A Barrowside Business Park
Sleaty Road
Carlow 000000
Ireland
Phone:+353599183072
Fax:+353599164239
Blacknight are an Irish based, ICANN accredited domain registrar and hosting company.
Recipients of several awards for their revolutionary use of social media, Blacknight are one of Europe's most cutting edge Internet companies. Blacknight constantly seek to lead the way by introducing innovative solutions for its client base and provide dedicated servers and colocation as well as a comprehensive range of Microsoft Windows and Linux based hosting plans and domain name registration service.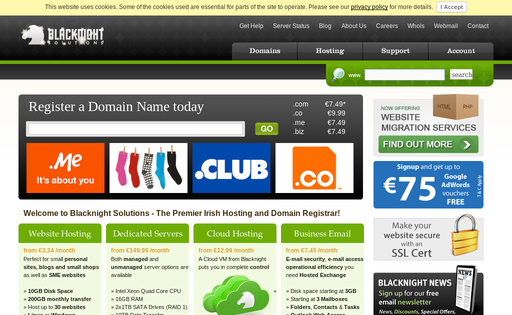 Shared Hosting starting at €4.95/mo
Domains: 30 Disk Space: 10 GB Bandwidth: 200 GB Control Panel: Yes Money-back Guarantee: 30 day
Minimus Hosting Perfect for simple or personal websites, small business and portfolio style websites. Includes basic email.
Dedicated Servers
Our engineers tailor dedicated server solutions for your business needs. Your servers are hosted in Ireland, with the assurance of EU data protection. Check out some of the common solutions below, or call us directly to discuss a quote for your own unique requirements.
Cloud Hosting starting at €12.95/mo
vCPUs: 1 RAM: 512MB Space: 15GB Bandwidth: 500GB Port speed: 10Mb/s