BlackSun Inc
Address: Innovation Place
212-116 Research Dr
Saskatoon S7N 3R3
Canada
Phone:306-933-4800
Fax:306-933-4987
There's something new under the sun! BlackSun provides state-of-the-art web hosting, with guaranteed uptime and reliability. Whether you're looking to establish a web presence or simply shopping around for the best value, BlackSun has the web hosting solution for you. Starting at only $10 Canadian per month!
FTP and Telnet access, CGI-bin, POP and web email, FrontPage2000, ASP, PHP4, Access, JAVA, JSP, MySQL and InterBase, SSL, Miva E-commerce and Cold Fusion.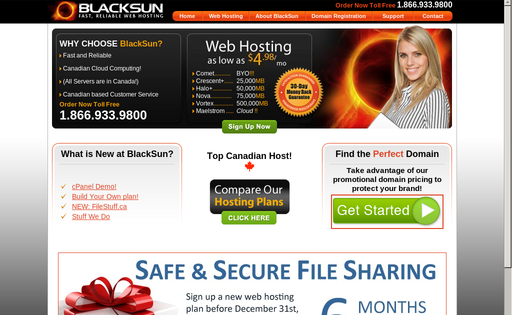 Shared Hosting starting at $4.99/mo
Domains: 1 Disk Space: 25 GB Bandwidth: Unlimited Control Panel: Yes Money-back Guarantee: 30 day
25GB Storage 1 Website Free Domain (1 year) 1 Free SSL Certificate One Click WordPress Installation cPanel Full Daily Backups Multi-layer Security Friendly Canadian Support ——— 1 Year – 15% discount 2 Year – 25% discount 3 Year – 35% discount
Cloud Hosting
BlackSun private cloud servers are not limited to fixed configurations. Customize your private cloud server to your requirements. You can customize the number of vCPUs, RAM, storage, network adapters, firewall rules, VPN access, backup requirements and much more!