layerservers
Address: bangalore urban
bengaluru 540065
India
Phone:N/A
Fax:N/A

No.1 Destination for Offshore Hosting & Anonymous Web Hosting

We make it our goal to protect your privacy, a fundamental human right. Since the establishment of our company in 2008, we have been offering high-quality and secure offshore web hosting solutions to our customers worldwide. We are one of the most experienced offshore hosting and anonymous hosting providers with multiple offshore locations, own hundreds of dedicated servers, Anti-DDOS Attack network, IP addresses, and in-house expert technical support working 24/7/365 to provide assistance in case an issue arises.

We have offshore shared hosting, offshore VPS hosting(both OpenVZ & KVM), offshore dedicated server and all the necessary tools you need to secure your identity.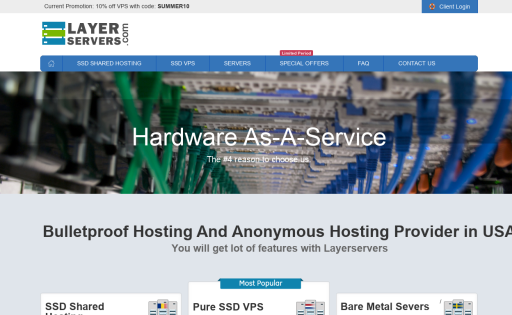 Shared Hosting starting at $3.99/mo
Domains: 2 Disk Space: 20 GB Bandwidth: Unlimited Control Panel: Yes Money-back Guarantee: 30 day
➨ 100% DMCA Ignored ➨ Full Root Access ➨ Free Standard DDOS Protection ➨ 99.99% Uptime Guarantee ➨ Any Time Money Back Guarantee ➨ 24x7/365 Fast & Expert Tech Support ➨ Bitcoin Accepted
VPS Hosting starting at $5.00/mo
VZ-512 2 Cores 512 MB 1 50 GB 2000 GB
Dedicated Servers starting at $80.00/mo
Xeon® X3220 2.80Ghz 4 GB 500GB SATA 15TB 1Gbps