BMC Hosting
Address: 2502 Timberwood Drive, Suite 73
Fort Collins CO 80528
United States
Phone:(866) 283-4425
Fax:N/A
BMC Hosting has been providing Web site construction, hosting and marketing, from its Fort Collins, Colorado, office. Our client base has grown to include businesses across the United States and around the world. Founded in 1996, BMC Limited started by offering web site marketing services and has expanded into web site design and web site hosting. Based on our belief in offering high quality Internet services, we have also expanded into businesses such as pre-paid credit cards and E-Commerce Solutions.

Although our client list has included businesses such as BHP Billiton and Sky Mall, the majority of our work is with small businesses. We treat all all our customers with the same respect they deserve and you can be sure that your experience with BMC Limited will be a positive one.

We take pride in our exceptional customer care and look forward to assisting with your business's ongoing development. We recognize every company has its own limits and will work within your means. BMC Hosting listens to your needs, but knows when to encourage you to expand your horizons to ensure success.

Another important part of BMC Hosting is our commitment to philanthropy. We work with many non-profit organizations with their Internet needs. If your non-profit organization needs Internet help feel free to contact us to see what we can do for your organization.

No job is too big or small, and we would love to discuss your Internet needs with you. Please go to our Custom Request page.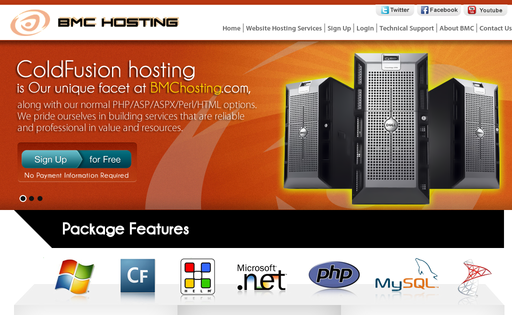 Shared Hosting starting at $15.00/mo
Domains: 1 Disk Space: 6 GB Bandwidth: 10 GB Control Panel: Yes Money-back Guarantee: 30 day
At BMC hosting, we strive to provide our customers with a variety of web hosting features and services. Signing up for web hosting with us allows you access to a number of CMSs, from WordPress to Joomla to Drupal, to allow smooth management of your website. With a start up disk space of 6GB, plenty of additional disk space available if you require it, and no setup cost, starting up at BMC, provides you with all to basics you need to get your website up and running, and an array of features on your fingertips if you have any additional requirements.