bodHOST
Address: Office address - 379 Thornall Street, Alfieri, West Tower, 8th Floor, Metropark (Edison), New Jersey
Edison NJ 08837
United States
Phone:844 324 5054
Fax:N/A
bodHOST is a business solution provider. It offers solutions ranging from managed dedicated servers, custom server solutions, data centres, VPS hosting, web hosting, backups and spam experts. The team is always available at your service to help you thrive in this competitive world. The experts continually update themselves with new certifications and latest technologies that matter the most to the business. It offers robust infrastructure and hosting plans supported by SSD for enhanced speed, 99.99% uptime, 24/7 security monitoring and DDoS protection.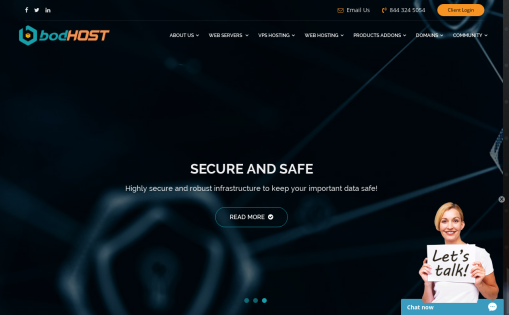 Shared Hosting starting at $0.99/mo
Domains: 1 Disk Space: 1 GB Bandwidth: Unlimited Control Panel: Yes Money-back Guarantee: 30 day
We make your WordPress hosting journey easy. Whether you use WordPress for creating a website, a blog, or a knowledge base, we have everything suitable for your needs. bodHOST is aware that everyone wants a fast-paced blog/website and you will definitely want a WordPress Hosting provider who makes sure that you get a high performance hosting experience. bodHOST assures ensures that your page loads the fastest with high-tech servers, in comparison to other WordPress hosting providers out there.
VPS Hosting starting at $24.99/mo
Businesses today are volatile in their requirements which make it essential for them to go for the perfect hosting solution. bodHOST's customized platform for Linux VPS delivers best virtual machine server performance in addition to completely managed hosting support within highly optimized operational costs. bodHOST Linux VPSs offer the ultimate cost advantage while moving your website from a shared hosting plan to a virtualized environment. Powered by Hypervisor, multiple operating systems can run concurrently with no let downs. Several VMs are created on a node, where the each VM works as an independent VM. They can be rebooted or upgraded as per the need, separately. The major advantage of this system being a hardware virtualization platform, the supporting processors are highly responsive in the Virtual server environment. Adding to the physical attributes; Apache, PHP, Perl and MySQL can be installed on the bodHOST Linux VPS, offering the convenience and independence of a dedicated server. With bodHOST Linux VPS, you can choose to host unlimited domains, install custom software or applications and with it, emerge as a reseller offering similar services to end user customers.