Box Internet Services
Address: 1 rue Adrien-Wyss
Genève 1227
Switzerland
Phone:+41 22 510 18 00
Fax:+41 22 510 18 99
Founded in 2007 by Philip Matthewson, Box Internet Services is an independent company based in Geneva, Switzerland. Box Internet Services is an Internet Service Provider which aims to fulfil your needs in terms of web hosting, SSL, emails, SMS, domain names, telecommunications, cloud computing as well as Internet connections no matter whether you are a business or a residential household. We strive to bring businesses and individuals the best internet services available to fit their needs in the easiest, and most effective way possible.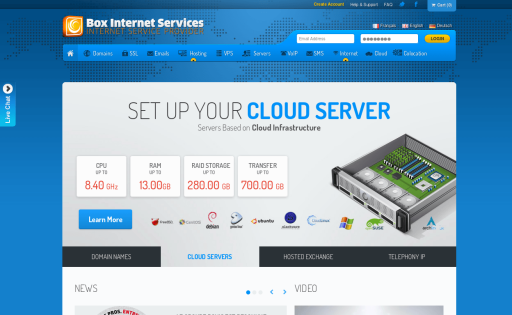 Shared Hosting starting at CHF3.90/mo
Domains: 1 Disk Space: 10 GB Bandwidth: Unlimited Control Panel: Yes Money-back Guarantee: 30 day
Sites Web2 Disk space10 GB Monthly trafficUnlimited Domains Alias Email Accounts10 Uptime Guarantee Programming LanguagesPHP 7.2, PHP 5.6, Ruby, Perl, Python Node.JS MySQL Databases MariaDB 10.12 SSL Certificate SSH Access Location Switzerland
VPS Hosting starting at CHF19.95/mo
Our SAN Disk infrastructure is configured in a way to combine the best performance and security.
Dedicated Servers starting at CHF389.00/mo
Discover our Dedicated Servers hosted in Switzerland Our dedicated servers are built from enterprise-class hardware from category leaders such as Cisco, Intel, Supermicro, Western Digital, Kingston, and others to deliver ground breaking dedicated server performance on-demand. Our range of dedicated servers feature SSD, SAS and large SATA HDD combinations with up to 192 GB RAM ECC. Upgrading later is easy. They are ideal for running demanding applications, speedy databases querying or for virtualizing. To complement your guaranteed bandwidth, you can increase the guaranteed speed for your specific requirements up to 10 Gbps per server or for mass software updates delivery, VOD, or even live streaming. In addition to speed, the available cross-connections enable to optimize geographical delivery.