BrickHost
Address: 11-317 Victoria Avenue East
Thunder Bay P7C1A4
Canada
Phone:1 (866) 539-0506
Fax:1-866-539-0506
We plugged in our first server on June 1, 2003 and started offering shared hosting services from a collocated server in New York city. Proudly based in beautiful Thunder Bay, ON at the head of Lake Superior. BrickHost has always worked to offer unparalleled levels of service using the best technology and industry practices. Growing quickly in our first year of operation we developed systems to handle the influx of clients (support ticket system, knowledgebase, etc...) but never lost sight of the importance of customer service.
Most of our clients have hosted with us for years, some since our very first year. During that time our company has grown, servers have been upgraded and even moved to new data centres. Yet throughout that time we've always partnered with our clients to deliver the best service possible and have never hesitated to go the extra mile to help with account transfers, scripting issues or to answer any questions as quickly and completely as possible.
If you're looking for a host to truly partner with your business or organization, to work with you to reach your goals, you've found a home at BrickHost. You're far more than a customer number, or account with our firm, you're a part of the family.
We offer complete cPanel hosting with Fantastico, on servers hardened with ConfigServer Firewall and Anti-Spam/Virus filtering. Reseller accounts and SSL ceritificates with dedicated IPs available and can be quickly setup and configured.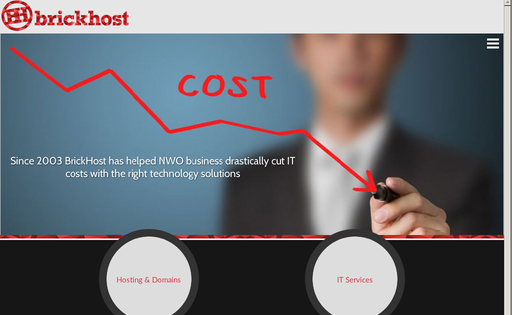 Shared Hosting starting at $4.99/mo
Domains: 1 Disk Space: 0.15 GB Bandwidth: Unlimited Control Panel: Yes Money-back Guarantee: 30 day
150MB of Disk Space 1.5GB of Transfer Monthly Unlimited email accounts, databases, and add-on domains
Reseller Hosting
We're a designer's or developer's best kept secret. As a freelancer or agency we can be as visible or invisible as you need, but either way we'll empower you to offer robust websites, email accounts, and all cPanel features to your clients. We can customize a hosting package to precisely fit your needs, but here are some highlights: • Private label nameservers with your own IP addresses (making us invisible) • Unlimited accounts, email addresses, databases, etc…. Just pay for the space and transfer you need. • Latest version of Cpanel without any branded skins or templates • Softaculous to easily install WordPress and other scripts in a few clicks • Full WHM access to your accounts • Customizable other features including SSL, dedicated IPs, DNS, etc…. We can meet any need you may have.
Colocation
Your server: our network, reliability and security. Locating a server within your office can be time consuming and expensive: high speed and costly internet connections, dealing with power outages, and handling the heat produced by servers. By collocating your server within our facilities you remove these worries and costs, while increasing server availability and connection speeds. Enjoy the peace of mind shared by dozens of our clients, most for more than five years. Our collocation facilities, are secure, climate controlled, feature redundant power options and high speed connections from different providers. Additionally, all servers collocated with us are monitored both externally for uptime and internally for disk space usage, temperatures and other issues/errors. In the event of an issue our staff are notified by email within minutes and are onsite to resolve issues. Contact us today at office@brickhost.com and we can discuss collocation options and pricing for your business or organization.