Bullten Web Hosting Solutions
Address: B-111 Ansal Town, Talawali Chanda, A.B Road
0
United States
Phone:N/A
Fax:N/A
Bullten Web Hosting Solution provides fully managed dedicated server, virtual private server and shared hosting.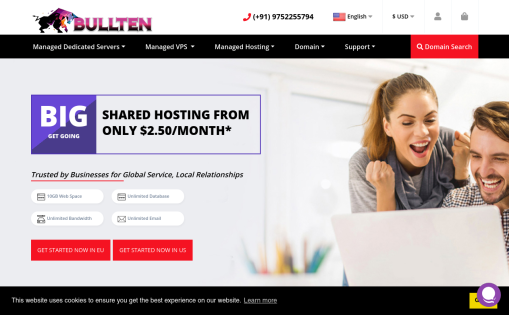 VPS Hosting starting at $10.00/mo
KVM stands for Kernel Based Virtual Machine and this is a complete virtualization solution for Linux and also Windows and is employed for x86 hardware. With our KVM virtualization, you get the following advantages – lower cost (Lower Cost – 67% lower cost as compared to other solutions!), scalability, advanced Security Features, top notch Quality of Service and much more.
Dedicated Servers
Rise Dedicated Servers It is a range of affordable dedicated servers offered by BULLTEN and are based on revolutionary Intel® platform. Its Intel® Xeon® processors deliver high performance at affordable prices. They are suited to a wide variety of uses for standalone servers, with a simple range of optimised configurations.