Buy RDP Admin
Address: 4157 Little Acres Lane
GREENWICH KS 67055
United States
Phone:+1 9513874111
Fax:N/A
At BuyRDPAdmin.com, we offer the best in pricing and performance for your RDP servers. We offer our clients dedicated cheap RDP servers across multiple countries and regions in the world, including the US, UK, CA, DE, SGP, IN, and the NL. We are committed to offering our clients the very best in industry-leading RDP services.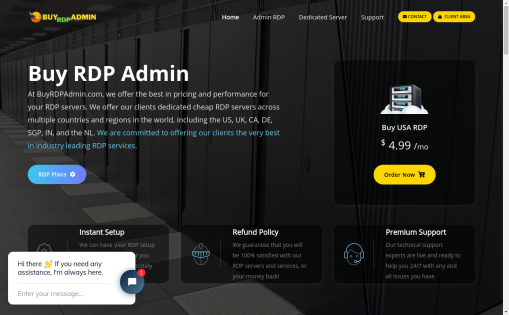 Dedicated Servers starting at $4.99/mo
Fast SSD & Intel CPU Our USA RDP services come with the fastest SSD and Intel CPU speeds, alongside total 24/7 private access + Full admin access at $4.99 only. Upto 10Gbps Duplex Buy USA Admin RDP with high-speed uploading/downloading internet speed. Avail US RDP with Bitcoin, Credit/Debit card, PayPal, Perfect money & UPI.