Calico UK
Address: 27 High Street
Cromarty IV11 8YR
United Kingdom
Phone:01381 600580
Fax:N/A
Calico UK is an Internet Service Provider based in the Highlands of Scotland. We offer domain registration, windows and linux web hosting, email, online backup and much more. Customers are supported by our friendly helpdesk.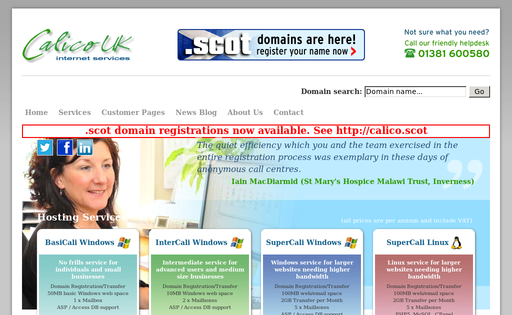 Shared Hosting starting at £30.00/mo
Domains: 1 Disk Space: 0.05 GB Bandwidth: - Control Panel: Yes Money-back Guarantee: 30 day
Web hosting features CGI, Perl, ASP ODBC/Access DSN and DSN-less database integration Web access logs Unlimited FTP access for website administration Email hosting features 1GB mail service - allowance shared between unlimited mailboxes Authenticated SMTP, IMAP, POP3 and webmail access Master control panel for domain owner to add, delete and modify mail accounts Basic user configurable and optional advanced spam filters Check and retrieve mail from other external POP mail accounts Secure mail connections using SSL Autoforward and autoreplies Daily backups of mail stored on server.