Canadian Web Hosting Inc
Address: PO Box 28011
PO Box 28011
Vancouver V6C3T7
Canada
Phone:888-821-7888
Fax:N/A
Canadian Web Hosting is your single platform for shared hosting, Cloud Hosting, Dedicated Servers, Private Clouds, Software as a Service (SaaS), Infrastructure as a Service (IaaS) built on enterprise infrastructure:
Canadian Web Hosting, and its subsidiaries, represent a comprehensive service structure designed to meet their client's most demanding infrastructure and hosting requirements. With proven experience, and stability that is unique for a technology company, Canadian Web Hosting is the leader when it comes to web hosting and cloud hosting specializing in hosting business and enterprise-class clients from around the world. One of only a few SSAE 16 certified service providers in Canada, and with a heavy focus on compliance and business process including Canadian privacy laws (PIPEDA), Canadian Web Hosting delivers a secure and scalable service that helps customers meet their specific business requirements.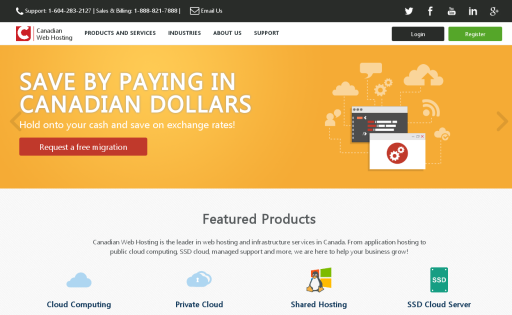 Shared Hosting starting at $3.95/mo
Domains: 1 Disk Space: 5 GB Bandwidth: Unlimited Control Panel: Yes Money-back Guarantee: 30 day
Unlike most hosting companies, we own and operate all of our equipment. Our plans are designed to maximize uptime for your website and emails.
Reseller Hosting starting at $24.95/mo
Start hosting your own clients with a Reseller Hosting plan. With flexible pricing and the ability to sell enterprise class hosting without the cost of owning your own hardware, we offer customers a fully White-Labelled reseller web hosting solution. We provide you anonymous DNS servers and every plan comes with the ability to set your own DNS. Every server is SSAE 16 Type II Certified. While Canadian Web Hosting does everything behind the scenes to ensure the best possible experience for you and your clients, there is no mention of Canadian Web Hosting or our servers in the public WHOIS or HTTP record for any domain.
VPS Hosting starting at $5.00/mo
512 MB 1 Core 20 GB 1 1 TB
Dedicated Servers starting at $89.00/mo
Intel Dual Processors Self-Managed Fully Configurable HDD and SSD Hard Drives Software RAID