Canhost Inc
Address: 105 1405 Saint Paul Street
Kelowna V1Y2E4
Canada
Phone:1-877-604-HOST
Fax:1 (888) 864-7708
Canhost Inc. is a privately owned Hosting Service Provider operating also the DBA I-Guru. It has been a Fereral Canadian Corporation opperating in the hosting, IT sector for over 16 years. We opperate from our own datacenter built to suit our clients needs. Canhost provides a solid platform for hosting Client Applications along with a full range of Business-Class Information Technology services.
The Corporation provides wholesale server rentals to application service providers.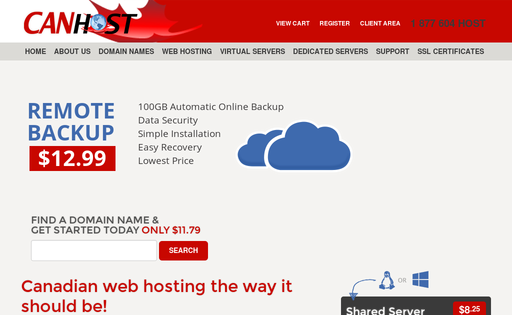 Shared Hosting starting at $10.00/mo
Domains: 1 Disk Space: 10 GB Bandwidth: 100 GB Control Panel: Yes Money-back Guarantee: 30 day
cPanel for Linux 10 GB Disk Space 100GB Traffic 10 E-mail Accounts 10 MySQL Database
Reseller Hosting starting at $30.00/mo
With Reseller Web Hosting you get virtually no limitations, and lots of extra hosting features. Fully brand all aspects of the service, and seamlessly integrate with your existing Marketing efforts. Our Reseller Hosting uses Web Host Manager (WHM) and cPanel to provide your users with an intuitive Graphical User Interface (GUI) that maximizes familiarity and ease of use for your end users. The only limitations? The amount of disk space and bandwidth allocated to your account. Never limited by the number of accounts your can create… Most of our resellers can easily host 50+ sites on our lowest tier account. Seamless PHP and MySQL setup. Hardened to help prevent Cross Site Scripting attacks, DDoS attacks, and brute-force login attempts. Firewall – All our servers are doubly secured using both a hardware-based Fortigate Firewall, as well as locally, with software-based CSF/LFD protection. These protections allow us to prevent 99% of attacks against our systems…Less worry, more uptime and security! 2 Dedicated IP addresses One is configured as a shared IP for most of your hosting clients, and one is to be used at your discretion. Allows you to configure custom private name servers with 2 IP addresses. Most resellers only provide 1 IP address, and can be a major point of failure. Additional IPs are available for $1 per IP per month.
VPS Hosting starting at $15.00/mo
Linux VPS w/ 2 vCPU 20GB of Disk Space 2 GB of RAM 2 IP Addresses cPanel 5
Dedicated Servers starting at $149.90/mo
750 GB Harddisk Drive 50 Mbps Bandwidth 2 IP Addresses Static 2 GB ECC Ram Dual Core Xeon 1.6 Ghz
Colocation
Bandwidth, Power, and Security. All of our Colocation Service options are fully customizable and configurable. Order shared or dedicated bandwidth depending on your requirements. Packages come with standard 15 Amps power. Or, take control and ramp it up to 30-60 Amps in redundant configuration, with remote management. Select a caged solution up to 20 Kw per square foot. Firewall services are available: use our in-house Fortigate, or order your own managed solution to harden your setup as needed.